Posted by: Craig Woolheater on May 26th, 2015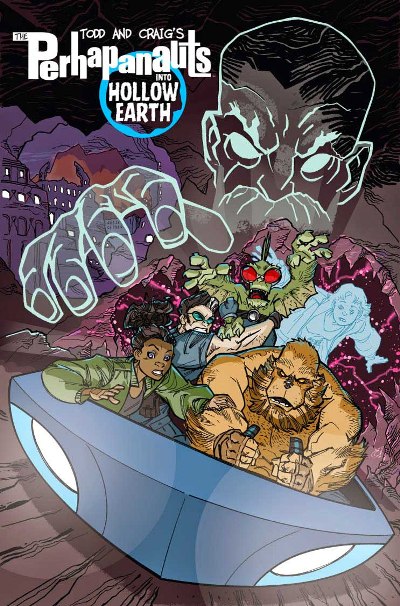 A few years ago, comic book writer Todd Dezago kindly plugged my documentary Southern Fried Bigfoot on the official page for his fantastic and fun comic The Perhapanauts. Todd and artist Craig Rousseau have just launched a Kickstarter campaign for a new Perhapanauts graphic novel that I'm happy to plug! (and to all my film/TV/animation cohorts and connections: somebody should license the rights and turn this into an animated series because it would rock!)
Since 2005, the Perhapanauts team, consisting of such members as a Sasquatch, a chupacabras, and a ghost, to name just a few, have investigated and fought strange creatures that have crossed into our world in a number of comic book miniseries published by Dark Horse Comics and Image Comics respectively. Their adventures have taken them across the planet, to every continent, to the four corners of the Earth. This time, they're going IN.
The Perhapanauts: Into Hollow Earth is a 64-page graphic novel from co-creators Todd (Impulse, Tellos, Sensational Spider-man) Dezago and Craig (Impulse, Batman Beyond, Iron Man: Armor Wars) Rousseau. The project has recently launched a Kickstarter campaign.
As Dezago explains:
"For years Craig and I have wanted to do a Perhapanauts story that could stand alone as the definitive Perhapanauts tale, that could act as both introduction to our colorful crew for new readers and to provide a thrilling, edge-of-your-seat adventure for our long-time, loyal fans, taking them someplace that they—and the Perhapanauts—have never been before~!
I've long been fascinated with the legends of the Hollow Earth; from Jules Verne's Journey to the Center of the Earth to Mike Grell's fantastic Warlord for DC Comics to eventually tracking down several dog-eared issues of the old pulp magazine, Amazing Stories, featuring the strangely prophetic Shaver Mystery. I couldn't get enough and my mind would boggle with images and scenarios of what might take place in the Inner World.
When Craig suggested we Kickstart a project that would give us both a chance to explore our hapless team—and our world—a little deeper, the only place to go—for me, anyway, was…down.
INTO HOLLOW EARTH takes The Perhapanauts into a world where science and magic have merged, where strange creatures—and strange peoples—fight to survive, where long-lost technologies could serve to save the World Without—or destroy it from Within…"
If you're a cryptid or comics fan, be sure to check it out!
Sean Whitley
#Perhapanauts
About Craig Woolheater
Co-founder of Cryptomundo in 2005. I have appeared in or contributed to the following TV programs, documentaries and films: OLN's Mysterious Encounters: "Caddo Critter", Southern Fried Bigfoot, Travel Channel's Weird Travels: "Bigfoot", History Channel's MonsterQuest: "Swamp Stalker", The Wild Man of the Navidad, Destination America's Monsters and Mysteries in America: Texas Terror - Lake Worth Monster, Animal Planet's Finding Bigfoot: Return to Boggy Creek and Beast of the Bayou.