Posted by: Nick Redfern on May 4th, 2012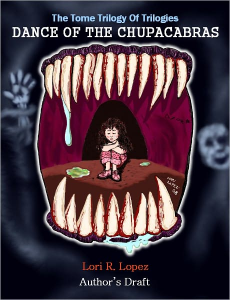 I have not yet seen this recently published book, so I can't comment on it to any significant degree. But, if crypto-themed fiction is your cup of tea, then it's one to add to your collection: Dance of the Chupacabras by Lori R. Lopez.
And, here's the blurb for the book: "A dark and humorously scary novel, DANCE OF THE CHUPACABRAS (TOME ONE of the TOME TRILOGY OF TRILOGIES) will take you on a fantastic and eccentric adventure through a shifting desert world in Northern Mexico as two brothers stumble into the roles of heroes and attempt to rescue a young girl kidnapped by El Chupacabras. Aztec god Quetzalcoatl and Mayan god Camazotz have teamed up to reclaim a stolen empire. The girl must be sacrificed, humanity vanquished. A subplot involves a busload of dancers held captive by an unraveling cop."
If that has got your attention, here's where you can purchase Dance of the Chupacabras.

About Nick Redfern
Punk music fan, Tennents Super and Carlsberg Special Brew beer fan, horror film fan, chocolate fan, like to wear black clothes, like to stay up late. Work as a writer.