Posted by: Nick Redfern on February 17th, 2014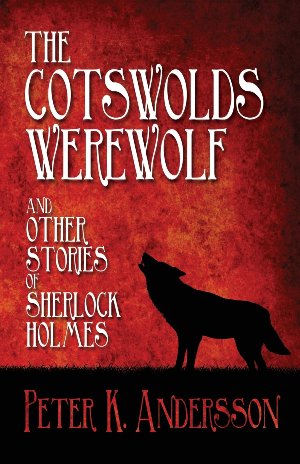 If you're a fan of Sherlock Holmes, cryptozoology and werewolves, there's the perfect item for you: the new book from Peter K. Andersson, The Cotswolds Werewolf and Other Stories of Sherlock Holmes.
And here's the info on the book:
"Someone is killing sheep in the Cotswolds. Or something. As Holmes and Watson arrive in the tranquility of a little village of shepherds and farmers to enjoy a few restful days in the idyllic countryside, strange things start to occur. While Holmes locks himself in his hotel room, consumed by depression, Watson is left to explore the surroundings on his own, acquainting himself with both the local shepherding community, the eccentric vicar, and the local folklore concerning a mysterious werewolf. It isn't long before the murderer directs his attention to other prey than sheep, and Holmes is forced out of his ennui into a world of fog-enshrouded moors, wild men, pitchforks and a big bad wolf. This volume also includes four shorter stories in the vein of Conan Doyle: 'The Adventure of the Velvet Lampshade', 'The Adventure of the Missing Mudlark', 'The Adventure of the Forking Paths', and 'The Adventure of the One-Armed Pugilist.'"

About Nick Redfern
Punk music fan, Tennents Super and Carlsberg Special Brew beer fan, horror film fan, chocolate fan, like to wear black clothes, like to stay up late. Work as a writer.