Posted by: Loren Coleman on November 17th, 2006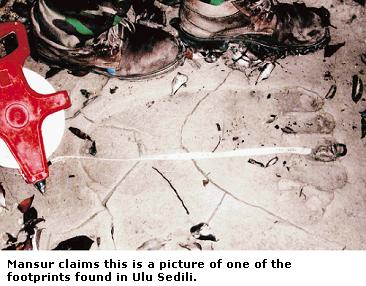 There is a new track photo, on November 17, 2006, to consider and a word of caution about them to share from Sean Ang.
The New Straits Times is publishing details that a "Bigfoot researcher" named Mansur Poh presented them with several "unpublished photographs" of "footprints of the creature" found in the "deep jungles of Ulu Sedili in Kota Tinggi." Mansue reported they were taken by "nature lovers" early in 2006. One is shown above.
Mansur Poh is also known as a Lesser Adjutants biological researcher, studying birds' habitat in the coastal areas stretching from Muar to Batu Pahat.
"The pictures of the footprints were taken in Ulu Sedili in Kota Tinggi and Kahang in Kluang this year," Mansur Poh further told the New Straits Times.
As demonstrated in the past, when large trade conferences are in Malaysian locations, Bigfoot evidence or activity is often presented. Mansur Poh has created and is showing a Bigfoot exhibition at the Dewan Che Luan Khor in Kluang, during the 5th Kluang Commerce and Industry Fair which ends on November 19, 2006.
Mansur's preliminary report "The Identity and Distribution of Bigfoot in Johor" was been submitted to Menteri Besar Datuk Abdul Ghani Othman in October 2006.
The New Straits Times also reported:
The research project is supervised by Associate Professor Dr Azhar Kassim who is with Universiti Putra Malaysia's Department of Animal Science.

In his report, Mansur said he had interviewed 10 people from Segamat, Mersing, Kota Tinggi and Kluang who claimed they had seen Bigfoot or its footprints in the jungle. One of those interviewed claimed that he saw four huge footprints, measuring 46cm by 28cm, last June. The footprints, which he said were found at the Ulu Sedili Forest Reserve, were about two metres apart while the depth of each footprint was nearly 8cm.

Dr Azhar, meanwhile, said he is guiding Mansur in his research to ensure that it is being carried out in a scientific manner.

The local media highlighted the possible existence of Bigfoot early this year following the discovery of footprints in Kota Tinggi last December.
Meanwhile, in an Exclusive to Cryptomundo, Sean Ang calls for caution in looking at this new material:
If you look at the NST today, there is a new photo of Bigfoot print provided by Mansur Poh. However, please be cautious for the following reasons:
a. The original owner and negative of the photo is still unknown, although it was said to be from a "nature lover". This is based on my conversation with Sitam from NST.
b. Mansur Poh made a blunder by including the previous 4 hoax photos in the exhibition ….This is based on conversation with Vincent Chow who got feedback from some reporters. It appears that Mansur Poh is not aware of the hoax photos.
Please take note. There appears to be renewal of interest of Bigfoot in Johor by the media. But we should be extra careful this time..Sean Ang.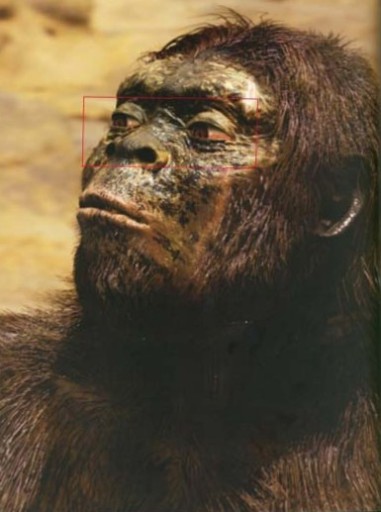 Despite the fakery of the recent past (such as the "eyes only" one above), the hopes I (Loren Coleman) have are that we can get to the bottom of what's going on in Malaysia, and with new eyes (no pun intended), look at the old (1970s-2005) cases, as well as good new evidence. Everything should be cautiously examined, of course. But let's not ignore that before the "mystery photos," the area had a long history of Orang Dalam accounts that were treated seriously by Bernard Heuvelmans, Ivan T. Sanderson, Harold Stephens, Mark A. Hall, Patrick Huyghe, Karl Shuker and me. The pre-hoax reports remain worthy of our attention. Something undiscovered, very large and bipedal appears to still be in the rainforests of Johor. In this case, to be overly skeptical and shy about anything from Malaysia is to be overly blind.
Loren Coleman – has written 5489 posts on this site.
Loren Coleman no longer writes for Cryptomundo. His archived posts remain here at Cryptomundo.