Posted by: Loren Coleman on September 24th, 2010
Two frogs and a salamander have been rediscovered during a worldwide quest to find extinct amphibians. The finds have included a Mexican salamander not seen since it was discovered in 1941, a frog from the Ivory Coast not seen since 1967 and another frog from Democratic Republic of Congo not seen since 1979.

The Mount Nimba Reed Frog (Hyperolius nimbae), Ivory Coast, was last seen in 1967. Also called the Omaniundu reed frog, it is a small and well camouflaged brown frog, and was rediscovered by local scientist N'Goran Kouame from the University of Abobo-Adjame.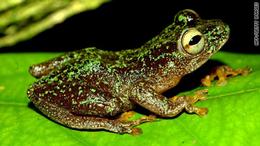 Last seen in 1979, this beautiful frog with bright green – almost fluorescent looking – spots on a dark brown background, was rediscovered by Jos Kielgast from The Natural History Museum of Denmark.


The Cave Splayfoot Salamander (Chiropterotriton mosaueri), Hidalgo Province, Mexico, had not been seen since its initial discovery of a single individual in 1941. The pink footed, brown salamander is believed to live underground in cave systems. Sean Rovito from the Universidad Nacional Autonoma de Mexico, found some in a cave system that is only accessible by going down to it via a large pothole.
Conservation International worked with 600 amphibian specialists around the world to compile a list of species that hadn't been seen in more than 10 years, then provided funding to 40 expeditions — mostly involving local researchers — to search for them.
Loren Coleman – has written 5489 posts on this site.
Loren Coleman no longer writes for Cryptomundo. His archived posts remain here at Cryptomundo.