Posted by: Loren Coleman on February 7th, 2011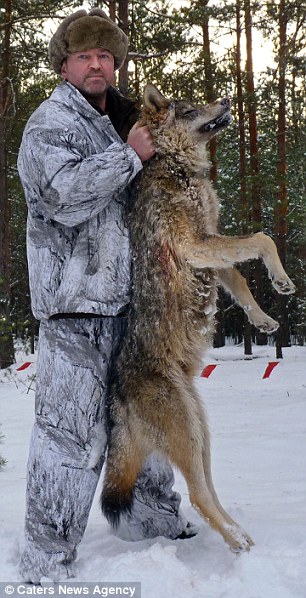 A hunter holds up the body of a dead wolf after (allegedly) a massive pack of 400 of the animals has terrorized the town of Verkhoyansk in Russia. Photo: Caters.
The mainstream media seem unable to publish an article about cryptozoology without sneaking in side issues, scopticisms, and silliness in the stories. Yet articles like the following appear with little hint that this might involve a "hunters' tales" or some other kind of reality:
A 'super pack' of wolves has been terrifying a town after leaving more than 30 horses dead in just four days.
Four hundred bloodthirsty wolves have been spotted prowling around the edges of Verkhoyansk, in Russia, attacking livestock at will.

Twenty four teams of hunters have been put together to get rid of the wolves, with a bounty of £210 for every wolf skin brought to officials.

Stepan Rozhin, an administration official for the Verkhoyansk district in Russia, said: 'To protect the town we are creating 24 teams of armed hunters, who will patrol the neighbourhood on snowmobiles and set wolf traps.

'But we need more people. Once the daylight increases, the hunters will start shooting predators from helicopters.'

A pack of wolves this size is unheard of, with the animals usually preferring to hunt in smaller groups of just six or seven.
The massive group is believed to be made from hundreds of packs and has left animal experts baffled.

For the rest of the item, click here Daily Mail.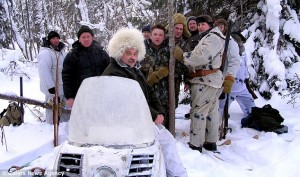 Twenty four teams of hunters have been employed by authorities to tackle the wolf pack, with officials paying £210 for every one killed. Photo: Caters.
Things could be worse. Someone looking for publicity could be on site.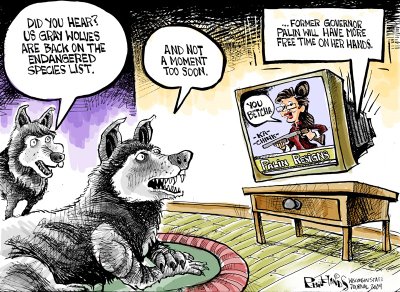 Loren Coleman – has written 5489 posts on this site.
Loren Coleman no longer writes for Cryptomundo. His archived posts remain here at Cryptomundo.