Posted by: Loren Coleman on August 21st, 2009
In the latest proof that the oceans continue to offer remarkable findings and much of their vastness remains to be explored, scientists at Scripps Institution of Oceanography at UC San Diego and their colleagues have discovered a unique group of worms that live in the depths of the ocean.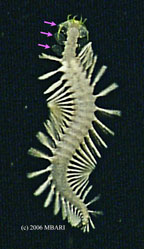 A video image of a species of Swima (as yet undescribed) with arrows indicating the animal's large bombs. Image: Monterey Bay Aquarium Research Institute.
The discoveries feature worms-nicknamed "green bombers"-that can release body parts that produce a brilliant green bioluminescent display.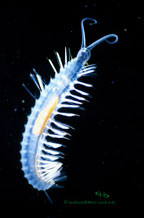 One of the first green bombers (Swima bombiviridis) collected from Monterey Bay and photographed by Steven Haddock of the Monterey Bay Aquarium Research Institute. Several green bombs are visible near the animal's long coiled head palps.
The discovery is described in the August 21 issue of the journal Science and is led by Karen Osborn of Scripps Oceanography.
The researchers introduce seven previously unknown species of swimming worms in the annelid phylum ranging from 18 to 93 millimeters (.7 to 3.6 inches) in length. They were discovered by the scientists using remotely operated vehicles at depths between 1,800 and 3,700 meters (5,900 and 12,140 feet). The first species described in the paper has been given the scientific name Swima bombiviridis, referring to its swimming ability and the green bombs.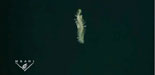 A newly discovered worm swimming in the water column of Astoria Canyon off Oregon.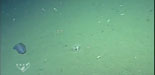 An unusual sighting of five Swima bombiviridis worms swimming in formation.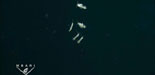 Numerous members of one of the yet-to-be-described species of Swima worms can be seen.
For more, read here & here; then see more photos here.
Loren Coleman – has written 5489 posts on this site.
Loren Coleman no longer writes for Cryptomundo. His archived posts remain here at Cryptomundo.