Posted by: Loren Coleman on September 15th, 2010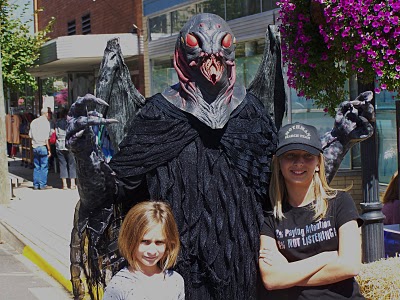 The ninth annual Mothman Festival is set to take over downtown Point Pleasant this weekend.

Aside from several activities, including a pageant, 5K run/walk, hayride and live music, this year's festival will feature several guest speakers. Those speaking at this year's festival primarily have ties to the paranormal world and the Mothman legend.

All guest speaker presentations will take place at the Historic State Theater, located on Main St. Chad Lambert, creator of the Mothman Comic and festival regular, will take the stage first at 10 a.m. Saturday. Following Lambert's presentation several other guest speakers are lined up for the day, including: Joe Clark, founder of Commonwealth Paranormal, 11 a.m.; Alan Caviness, UFO investigator, "Caviness Report," noon; Susan Shephard, author and ghost hunter, 1 p.m.; Rosemary Guiley, author, 2 p.m.; and Tom Ury, Mothman eyewitness, 1966, 3 p.m.

A special screening of the "Eyes of Mothman" movie also is set for Saturday. The screening will take place at 4 p.m. and will feature a question and answer session with Matt Pellowski. Sunday's festival activities will feature more guest speakers as well, including: Christa Carr, West Virginia State Social Studies Fair project winner, "Mothman," noon; Ericca Cordier, author of "Mothman Returns," 1 p.m.; Kurt McCoy, author of "White Things," 2 p.m.; and Andy Colvin, author and Mothman photographer, 3 p.m.

In addition to guest speakers, festival-goers will have an opportunity to meet with the original Mothman eyewitnesses on Saturday from 1-3 p.m.

For more information on the Mothman Festival or for a complete schedule of events, visit here.
Credit: Point Pleasant (WV) Register.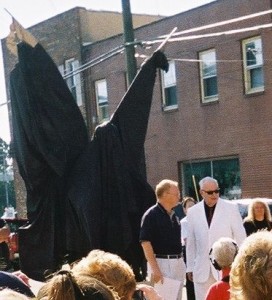 Gone, but not forgotten, John A. Keel, who died on July 3, 2009.
Loren Coleman – has written 5489 posts on this site.
Loren Coleman no longer writes for Cryptomundo. His archived posts remain here at Cryptomundo.