Posted by: Loren Coleman on April 30th, 2011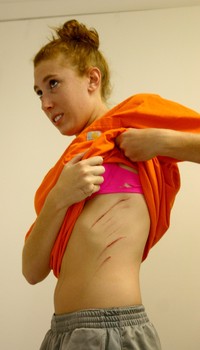 A young couple have become the first people ever to have had a recorded attack by a crocodile in Florida. They were attacked at 3:30 am on Thursday, April 28, 2011.
Mike Gregory, 23, and Leigha Poulson, 20, who miraculously escaped with minor injuries, were kayaking in the early morning in Florida Keys after a night out partying, when they were flipped into the water.
As they struggled to get back inside the kayak, they were both bitten on the leg by an American crocodile, with Poulson also suffering scratch marks to her side.
Officials in Florida, however, wondered aloud if it might have been an American alligator instead. Frank Mazzotti, a biologist at the University of Florida Research and Education Center, who is known as the "Croc Doc," believes no other animal could have caused such damage, because the area where the couple were kayaking is inhabited almost exclusively by crocodiles.
In the keys, crocodiles usually stay in the brackish, salt water, while alligators typically roam further inland in the fresh water.
"That area is almost all crocodiles," Mazzotti said. "On very rare occasions an alligator may stray into there. Nine out of 10 times it would be a croc in that area."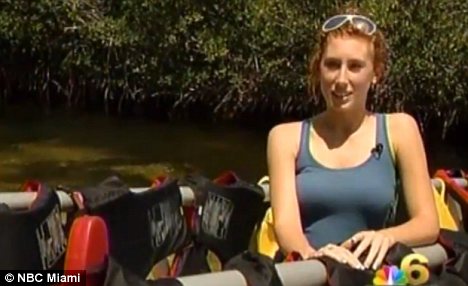 Leigha Poulson, who along with Mike Gregory, may have been the victim of the first ever American crocodile attack (in historical times) after their kayak was flipped.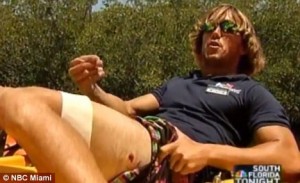 Mike Gregory shows off his wound, believed to have been caused by an American crocodile.
To read more, see here and here.
Loren Coleman – has written 5489 posts on this site.
Loren Coleman no longer writes for Cryptomundo. His archived posts remain here at Cryptomundo.