Posted by: Loren Coleman on April 21st, 2007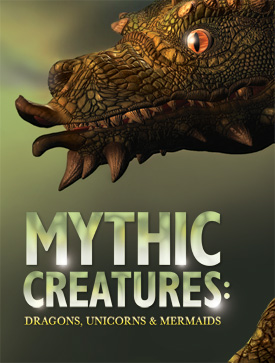 Mythic Creatures opens at The American Museum of Natural History on Saturday, May 26, 2007.
I have been invited to deliver a presentation, "Introduction to Cryptozoology," in conjuntion with this exhibition, late next fall at the AMNH.
Fun for the whole family, the new exhibition Mythic Creatures:
Dragons, Unicorns, and Mermaids explores the anthropological
origins and cultural significance of some of the world's most
enchanting mythological characters, such as dragons, griffins,
mermaids, sea serpents, and unicorns. The exhibition features
art and cultural objects, fossils, and eye-popping models from a
17-foot-long dragon to the legendary sea monster, the kraken,
with massive two-foot diameter tentacles surfacing all through
the hall.
May 26, 2007–January 6, 2008
TRACK THE ORIGINS OF LEGENDARY CREATURES INCLUDING DRAGONS, UNICORNS, MERMAIDS, AND SEA SERPENTS
Mythic Creatures: Dragons, Unicorns & Mermaids, an enchanting exhibition that traces the cultural and natural history roots of some of the world's most enduring mythological creatures for the first time, is scheduled to open on May 26, 2007. Legendary beasts of land, sea, and air such as dragons, griffins, mermaids, sea serpents, and unicorns are highlighted in this major exhibition scheduled to remain on view through January 6, 2008, after which it will travel to other venues.
For thousands of years, fantastical creatures have been a part of human experience through legends and fables, ancient and contemporary art, performance, and even in the accounts of early naturalists. Mythic Creatures will include spectacular sculptures, paintings, and textiles, along with a number of cultural objects from around the world ranging from shadow puppets to ceremonial masks and helmets that will bring to light surprising similarities-and differences-in the ways peoples around the world have envisioned and depicted these strange and wonderful creatures.
Mythic Creatures will also feature preserved specimens from the Museum's collections, and fossils of prehistoric animals to investigate how they could have, through misidentification, speculation, and imagination, inspired the development of these legendary beasts. For example, visitors will discover how narwhal tusks introduced by northern European traders lent credence to the centuries-old belief in the unicorn (a beast that was probably originally a misunderstanding of a rhinoceros), and how dinosaur fossils uncovered by Scythian nomads may have been mistaken as the remains of living, breathing griffins. And persistent tales of undersea monsters may simply have been sightings of real creatures that are just as fantastic as any imaginary beast, including the oarfish, great white shark, and giant squid.
Mythic Creatures: Dragons, Unicorns & Mermaids is organized by the American Museum of Natural History, New York, in collaboration with The Field Museum, Chicago; Canadian Museum of Civilization, Gatineau; Australian National Maritime Museum, Sydney; and Fernbank Museum of Natural History, Atlanta.
Mythic Creatures is proudly supported by MetLife Foundation.
Loren Coleman – has written 5489 posts on this site.
Loren Coleman no longer writes for Cryptomundo. His archived posts remain here at Cryptomundo.