Posted by: Loren Coleman on February 17th, 2008
Yes, Loren Coleman is in the "Winged Creatures" episode, even if he is not in this new trailer from "Animal X."
The trailer was not placed online until 2008. Its appearance is a sign that all of the "Animal X" episodes from three seasons are now obtainable through online ordering. We are seeing a shift from DVDs to online ordering, instant obtaining of cryptozoology documentaries.
The "Animal X" overview of this specific program includes images and words, beyond the trailer:
Dan and Nat investigate unidentifiable winged creatures reported around the world in their latest investigation. They travel to Mexico, Point Pleasant in West Virginia and Pleasant Point in Maine to uncover a composite of the science, mystery and folklore behind those large winged creatures that are said to inhabit our skies.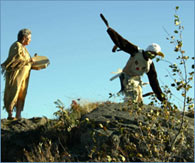 Thunderbird dance by Maine's Passamoquoddy
They travel back in time with the original 1960s witnesses of Point Pleasant as they celebrate the Mothman Festival, held in honour of the events that took place in the 1960s.

Linda Scarberry, famed Mothman eyewitness.
They travel to Mexico where "Birdman" attacks and sightings are making headlines to chat with those that have witnessed this creature first hand.
They also travel to the Passamoquoddy tribe in Pleasant Point to hear the stories of the Thunderbeings – half human/half bird paranormal creatures that have been part of their life for generations and generations.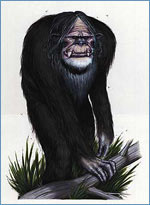 Meanwhile, all the other trailers can be found here, including "Bigfoot" involving Craig Woolheater and other Texans.
Chester Moore from the "Bigfoot" episode
Loren Coleman – has written 5489 posts on this site.
Loren Coleman no longer writes for Cryptomundo. His archived posts remain here at Cryptomundo.