Posted by: Loren Coleman on May 22nd, 2009
I get emails. People write me often.
But anonymous emails with no contact information do not help.
Beside the fact they could be hoaxes or wild goose chase missives, informants with identities are important. To get into a community, especially one that is closed and/or extremely close-knit, I need contacts, even if carefully de-identified ones in the public record, not just hints of what's happening. Reports are only as credible as the people sharing them, remember.
As an extreme example, let me share an anonymous email received yesterday:
"I live on the White Mountain Apache Reservation, where there has been many sightings of Bigfoot. However, there are sightings of other things. Since I was a child there has been sightings of small men that live in the mountains, goat man, giant snakes that make noise like cows, and many other things. I wish to stay anonymous, due to secrecy. But maybe you can research it. Fort Apache reserve. Look up the reservation, the huge snake has been seen and heard by many people! It sticks to the ponds and rivers! You'd be surprised by all the stories and evidence you can collect here."
No return email, no name, no phone number, nothing attached to inform me whom the sender is.
I can Google "Apache" and "giant snake," of course, and find tales, as well as the next person, like this one:
Arizona. Early in this century a 14-footer lived in the Huachuca Mountains along the Mexican border. It had the unpleasant habit of slithering after prospectors, running them into their cabins and laying siege to them. The size and behavior of this snake suggest it may have been a descendant of the Apache snakes that once infested this area. Apache shamans would talk giant snakes into ambushing whites.
Sports Illustrated, October 21, 1974.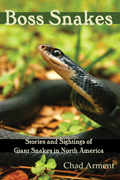 Or I can research such things in books such as Boss Snakes: Stories and Sightings of Giant Snakes in North America by Chad Arment.
But my gosh, if someone wants me to come to their area and investigate, hopefully, they would leave contact info.
Also, I am part Indian, and I respect that First Peoples' reservations are not exactly open to strangers coming in and poking around. Contacts are important as far as keys to deeper information, not just moments that will be remembered only as "let's-tell-the-cryptozoologists-good-stories."

Thank You.
Loren Coleman – has written 5489 posts on this site.
Loren Coleman no longer writes for Cryptomundo. His archived posts remain here at Cryptomundo.