Posted by: Loren Coleman on February 9th, 2011
Yesterday, Tuesday, there was a rare appearance of an ocelot in southern Arizona. The cat was first noticed by a man who was working in his yard in the Huachuca Mountains.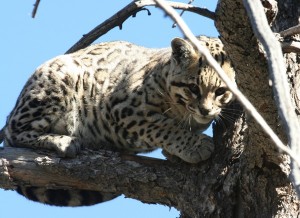 This ocelot was seen on February 8, 2011, in Arizona.
Photos were taken by wildlife official after the man's dogs chased the cat up a tree. After the state wildlife experts took a photographic record and verified the encounter, then they left the animal alone.
The species has been federally endangered since 1982, and this was only the second time one of these felids has been seen since the mid-1960s.
KPHO-Phoenix mentioned that only one other ocelot, an animal run over near Globe in April 2010, has been confirmed in Arizona since the mid 1960s. One other ocelot was reportedly captured on film by the Sky Island Alliance in November of 2009; however, it has not been possible to fully verify the species or the animal's origin based on that photo.
The ocelot (Leopardus pardalis) is also known as the Dwarf Leopard, McKenney's Wildcat, Jaguatirica (in Brazil), Jaguarete (in Paraguay and Argentina), Tigrillo (in Ecuador, Colombia and Peru), Cunaguaro (in Venezuela), or Manigordo (in Costa Rica and Panama). This small felid is a wild cat distributed over South and Central America and Mexico, but has been reported as far north as Texas and in Trinidad, in the Caribbean. North of Mexico; it is found regularly only in the extreme southern part of Texas, although there are rare sightings in Southern Arizona.
The incident reporting is thanks to wildlife writer Pete Thomas and other media.
Loren Coleman – has written 5489 posts on this site.
Loren Coleman no longer writes for Cryptomundo. His archived posts remain here at Cryptomundo.