Posted by: Loren Coleman on August 30th, 2010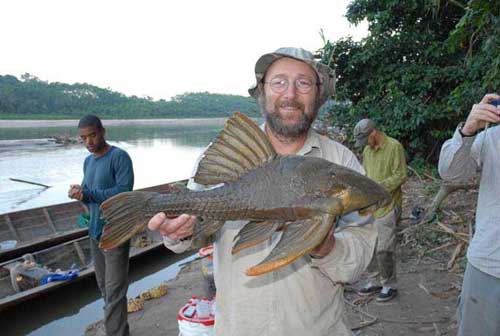 Credit: Nature Conservancy. Paulo Petry.
A new species of armored, Amazonian catfish that eats wood from fallen logs – and, sometimes, the droppings of its fellow catfish, has been discovered.
Nature Conservancy freshwater scientist Paulo Petry (above, with new species) found it while on a scientific expedition to the Fitzgarald arch, one of the remotest parts of the Peruvian Amazon. They were caught at the confluence of the Peruvian Purus and Curanja (a tributary to the Purus) rivers.
The Nahuan people of the ethnicity Sharanahua (which means "the good people") call the fish Ishgunmahuan — which in their language basically means "large armored catfish." Armored catfish are unique to South America. In Spanish, it's "carachama gigante."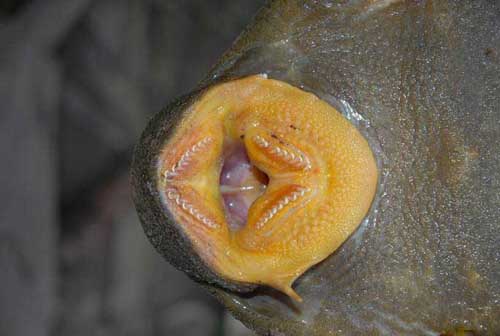 Credit: Nature Conservancy. Paulo Petry.
There are 10 species of this genus called Panaque, and all of them have this commonality — they feed on wood and they have these particular kind of teeth, shaped like a spoon that allows them to scrape wood.
More on the new discovery can be found here.
Loren Coleman – has written 5489 posts on this site.
Loren Coleman no longer writes for Cryptomundo. His archived posts remain here at Cryptomundo.