Posted by: Loren Coleman on April 20th, 2008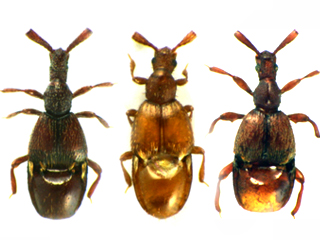 New insects are literally found daily, by the hundreds every year. Cryptozoology, as I have noted, generally deals with the discovery of larger animals, mostly vertebrates, with the now-and-then large invertebrate, such as the giant squid (verified) and giant octopus (still an active cryptid).
But, it appears the entomologists deserve their due sometimes. They need recognition as much as the next discoverers for find new species, and can generate publicity, especially if the new species are beautiful, unique, or strange to observe. It's always been that way.
To wit, some news out of the rainforests of Thailand calls our attention to the insects:
A group of Thai entomologists announced the discovery of three previously unidentified new species of snout beetles in Thailand's tropical forests—an indication of the biodiversity still to be discovered in Thai woodlands.
New to the world's record of beetle species, the three newly discovered were named Articerodes thailandicus, Articerodes ohmumoi and Articerodes jariyae.
The first was named in honor of Thailand, the second recognising a distinguished entomologist from Japan and the third to grant historical honor to Khao Khitchakut, Chanthaburi province—the only habitat to shelter these species of snout beetle.
An entomologist at the Department of National Parks, Wildlife and Plant Conservation, Wattana Sukchoowong, revealed that the three species were confirmed by Japanese specialists to be the three newest of the 105 specimens recently identified.
Mr. Wattana said the three new species were a good indication of the areas' biodiversity.
Red brown with the size of merely 1.2 millimetres with 4 cylindrical antenna, the three newly discovered bugs can be found at Khao Ang Rue Nai wildlife sanctuary in the eastern Chachoengsao province, Khao Soi Dao wildlife sanctuary and Khao Khitchakut national park in eastern Chanthaburi province.
The Thai entomologist revealed, though not being threatened as just yet, the new species might face extinction if the locale's ecosystem were made unbalanced, especially by climate change.
Loren Coleman – has written 5489 posts on this site.
Loren Coleman no longer writes for Cryptomundo. His archived posts remain here at Cryptomundo.