Posted by: Loren Coleman on February 19th, 2008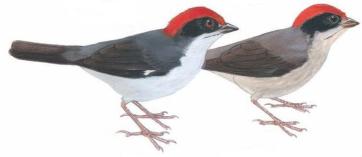 Adult and juvenile Antioquia Brush-Finches. Painted by Robin Restall
According to Donegan, T. M. 2007b. "A new species of brush finch (Emberizidae: Atlapetes) from the northern Central Andes of Colombia." Bulletin British Ornithological Club 127: 255-268, there is a new species of Atlapetes based on the discovery of 3 old skins, one each at three different Colombian collections, previously labeled as A. schistaceus from remnant forest patches in the n. Central Andes of Colombia. Searches by Donegan and others at and near the type locality have not revealed any additional specimens. Only one of the three has a date (1971), and one of the three has no locality data other than "Antioquia."
This new species of brush-finch has been described from museum skins labeled as Atlapetes schistaceus. The new species was given the Latin name, Atlapetes blancae. However, the plumage differences between the museum skins and A. schistaceus are significant. A. blancae is supposed to be similar to A. latinuchus elaeoprorus but significant plumage differences exist between the new species and subspecies as well. Many species are known from just museum skins, especially skins collected during colonialism when the world market was being established. Some species are described from just bones like dinosaurs.
Discovering an extant or surviving population will yield much needed data such as DNA, life history, range, and vocal recordings. Currently, the species is listed as critically endangered. This is a precautionary and practical move since Columbian forests are threatened with fragmentation and the species is known from only a few skins.
As noted by Donegan (2007), a species description based on only three skins, and without vocalizations or other observations, will always be vulnerable to skepticism, and without a DNA sample, elimination of the possibility of a hybrid population or local color morph involving the other two sympatric species is more difficult. Donegan makes a reasonable case, given the circumstances, for treating blancae as a species as the best hypothesis for the available data.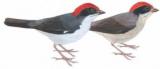 From Fundación ProAves:
Donegan said: "Hopefully, a population of the Antioquia Brush-Finch can be found and protected. It is ironic that the world's most recently described bird species may also be among the most endangered."
The Antioquia Brush-Finch has been proposed for "Critically Endangered" status, pending further searches.
Various sources: www.museum.lsu.edu, www.wildlifeextra.com, http://www.conservationreport.com.
Loren Coleman – has written 5489 posts on this site.
Loren Coleman no longer writes for Cryptomundo. His archived posts remain here at Cryptomundo.