Posted by: Loren Coleman on October 22nd, 2010


This moth is in the news again, on October 21, 2010, with one being captured and it causing a tourist attraction in the Central Province in Vietnam.
Earlier…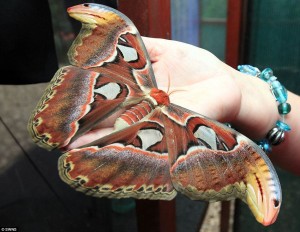 Sometimes even cryptid insects make it into cryptozoology studies. There has been a sighting of an extraordinarily large Atlas moth (Attacus atlas).
By mere chance, the International Cryptozoology Museum this week added a new specimen of the Atlas moth to its "cabinet of curiosities" display area (shown below).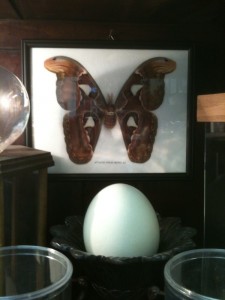 The Times of India has published this article on September 24, 2010:
Sameer Talekar and his family had a surprise visitor this Ganesh Chaturthi, when the world's largest moth in terms of total wing span, the Atlas moth (Attacus atlas), halted briefly at their house in Betki, Ponda, last week, creating quite a buzz.

Folklorist Kanta Gawde, 53, who was attending the Ganesh celebrations at the Talekar residence when the moth alighted on the matoli (fruit and vegetable canopy above the Ganesh idol) said, "It was exciting to see an Atlas moth perch on the banana flower in the house." Such moths are normally not seen in Betki, making this sighting all the more memorable. With a normal wingspan of 10 to 12 inches, the Atlas moth at Talekar's house is estimated to be about 13 inches in size. "It wasn't possible to physically measure its wingspan as this could injure it," Talekar said.

Wikipedia states that a record specimen of the Atlas moth from Java measured 262 mm or 10.3 inches. Those who saw the Atlas moth in Talekar's house last week claim it was definitely larger.
Loren Coleman – has written 5489 posts on this site.
Loren Coleman no longer writes for Cryptomundo. His archived posts remain here at Cryptomundo.