Posted by: Loren Coleman on September 22nd, 2009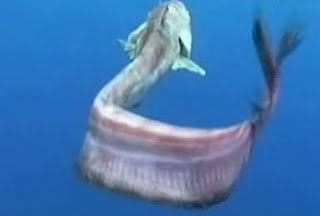 As I mentioned recently, a strange long, weird-looking "sea serpent" with a body like a giant ribbonfish or oarfish, with a bizarre fat head, had been seen in Frenchman's Bay, off the coast of Maine in 2003. Richard Klyver conducted interviews of the eyewitness and did a drawing of this creature that were distributed on our Sea Serpent-Whale Watch, over Labor Day weekend.
Now comes word that a similarly-appearing new species has been discovered, thousands of miles south.
Could it be related to the Frenchman's Bay "sea serpent"? The previously unknown species has been found off Brazil's Bahia coast. It is more than six feet long, has small teeth, and has no scales covering its gelatinous body. It is a fish, not a serpent, of course. Here are some of the first images of it:
Claudio Sampaio, Oceanographer, Federal University of Bahia: "It is a rare gem to find a species like this, which is completely new, scientifically speaking. There is no human record of this fish."
Well, maybe it is only ethnoknown, although never verified before?
The fish will be preserved in formaldehyde and maintained in the zoology department of the Federal University of Bahia, where experts hope to discover more about the fish, including its origins.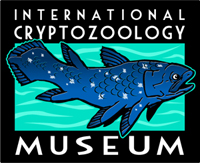 Join the past patrons and benefactors including the BCSCC, Craig Woolheater, Philip Levine, John Hodgman, Matt Walker, and Kevin Hemenway in supporting the International Cryptozoology Museum as it opens in downtown Portland, Maine.
Please click on the button below (not the one up top) to take you to PayPal to send in your museum donation.
If you wish to send in your donation via the mails, by way of an international money order or, for the USA, via a check (made out to "International Cryptozoology Museum") or money order, please use this snail mail address:
Loren Coleman, Director
International Cryptozoology Museum
PO Box 360
Portland, ME 04112
Thank you, and come visit the museum at 661 Congress Street, Portland, Maine 04101, beginning November 1, 2009!! This educational/scientific/natural history museum is not a 501(c)3.
Loren Coleman – has written 5489 posts on this site.
Loren Coleman no longer writes for Cryptomundo. His archived posts remain here at Cryptomundo.