Posted by: Loren Coleman on August 3rd, 2009
First there was the Montauk Monster; then there were the Montauk Monster copycats.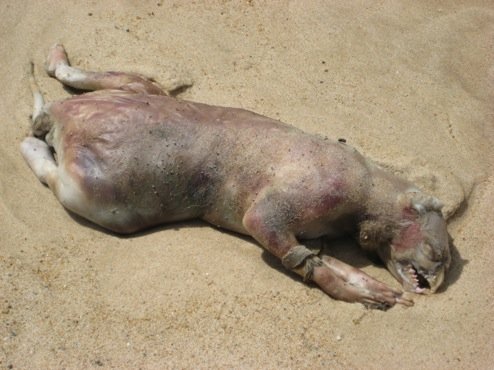 This is the first widely seen image of the Montauk Monster, a name I coined to capture the location and how it was being discussed, Summer 2008.
We all knew the first Montauk Monster was a raccoon (Procyon lotor) that had washed ashore, hairless, and was being made into a "monster" by the media.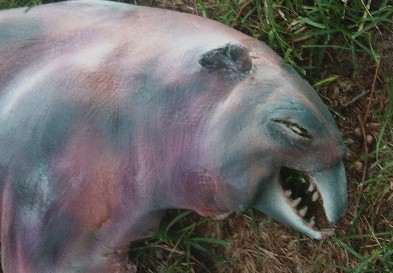 The Montauk Monster Replica, 2008.
Now, it seems, nature is doing some reverse engineering and throwing some actual bald raccoons at us.
This does appear to be a little more bizarre than needed in our cosmos, doesn't it?
I was alerted to this discovery by Canadian and fellow blogger M.J. Murphy, who first showcased to the anomalistic world that there, indeed, could be a coming invasion of bald raccoons standing at the gates of all of your towns and cities.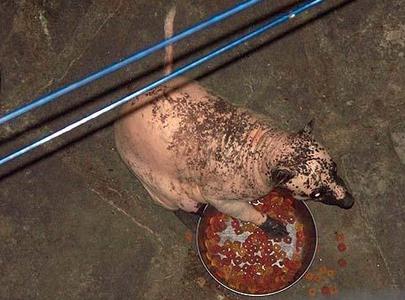 Photo, Colin Williams, Toronto Star.
It seems a totally bald raccoon has been running around the Toronto neighborhood of Parkdale, Canada. The various residents there have taken a few photographs and videos.
Monikers have been created from the mild "Baldy" to "The Toronto Terror."
"This is quite clearly a hairless raccoon," proclaimed York University biologist Suzanne MacDonald.
"The raccoon does seem to be a good weight and properly hydrated," observed Nathalie Karvonen, executive director of the Toronto Wildlife Centre. "Just very strange-looking."
Apparently, one place it hangs out is in the backyard of Christella Morris and Colin Williams. Williams has taken lots of photos and posted the bald raccoon on YouTube. Morris, 23, a music merchandiser was the one who named the female raccoon "Baldy."
Morris says the only thing afflicting the raccoon is looks-based prejudice.
"It'd be great if people called her Baldy instead of the Toronto Terror," remarked Morris.
"I'd adopt her. If she wouldn't tear my face off. Or eat my cat."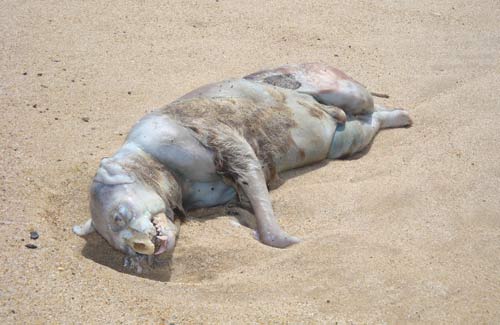 One of the second series of photos to surface of the Montauk Monster, 2008.
Loren Coleman – has written 5489 posts on this site.
Loren Coleman no longer writes for Cryptomundo. His archived posts remain here at Cryptomundo.