Posted by: Loren Coleman on August 31st, 2008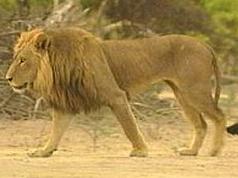 Moments ago, I was on the UK's Sky News radio show, "Talk Sports" with Ian Collins, discussing cryptozoology. During a break in the program, the regional news was read and included breaking word from Belfast, Northern Ireland, of the sightings of and search for a "lion."
Needless to say, after the show, I dug into this and found the following details of the encounters and the resulting attempt to capture this large cat.
On the evening of Sunday, August 31, 2008, a search was being conducted by police in Northern Ireland after sightings of a large sandy-colored felid in Cavehill Park, a short distance from the Belfast Zoo. Northern Ireland police deployed a helicopter in the hunt, without success. The location of the sightings does not surprise me, considering the source of the reports are a social felid.
Official checks with the zoo personnel found no big cats missing from the zoo. Keepers had checked all cages in the zoo and all the animals were accounted for.
A spokesman for the Police Service of Northern Ireland said: "We are taking this seriously, there have been a string of calls about sightings. It wasn't just one person. A number of witnesses have described the animal as a sandy-coloured lion or large non-domestic cat.
"Police in North Belfast are warning the public to be aware of sightings of what appears to be a lion in the Upper Hightown end of Cavehill Park. Police are currently responding to the incident and would urge the public to avoid the area. Anyone who thinks they may have seen the animal should not attempt to approach it."
The search was expected to continue on Monday morning.
Sources: "Lion sighted in Belfast park," by Sarah Knapton, The Telegraph, 31 Aug 2008; "Lion 'on the loose in Belfast'," ITN, 31 Aug 2008.
My past research experiences in tracking such incidents have indicated that large cats, especially social ones like lions, often show up near zoos, apparently in response to the roars and calls coming from other lions.
[See my September 1st update here.]
Loren Coleman – has written 5489 posts on this site.
Loren Coleman no longer writes for Cryptomundo. His archived posts remain here at Cryptomundo.