Posted by: Loren Coleman on December 17th, 2009
Ben Radford has a good column about the bogus Bigfoot from Minnesota, entitled "New Bigfoot Image Cut Down by Occam's Razor." See here. Too much attention has been devoted to this already, so I will be brief.
I'm not sure about the razor, but this case sure needs a good barber.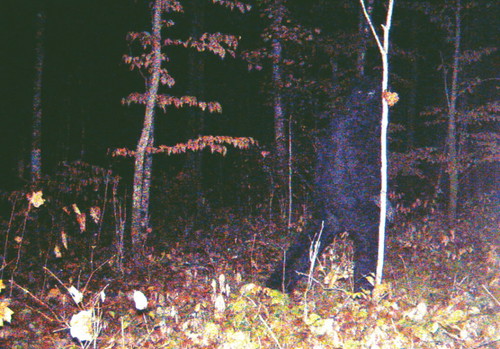 The above alleged Bigfoot was taken at 7:20 pm, on October 24, 2009, on a rainy night, by a game trail camera in woods north of Remer, Minnesota, according to the hunters who set up the camera. Someone seems to have been playing a prank on them. Now the trick on us seems to have been extended by the media.
A paragraph worthy of reflecting upon is the following one from Benjamin Radford:
This case also highlights one of the pitfalls of researching mysterious subjects like Bigfoot, ghosts, and UFOs: anyone can declare himself or herself an expert on the topic. There are no governing bodies or accrediting institutions for investigators, and most casual readers can't tell which investigators use credible scientific methods and which simply put up a Web site and deem themselves authorities. The Minnesota trailcam non-Bigfoot photo says nothing about whether Bigfoot exists, but it does reveal a great deal about how these stories begin and spread.
Loren Coleman – has written 5489 posts on this site.
Loren Coleman no longer writes for Cryptomundo. His archived posts remain here at Cryptomundo.