Posted by: Loren Coleman on September 27th, 2006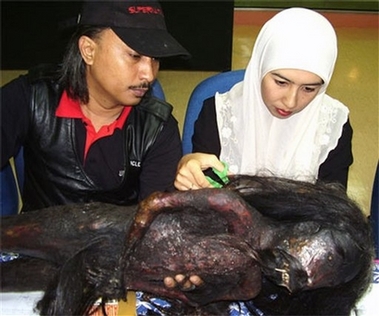 Will the above "mummy" displace efforts to seriously study the "Johor Bigfoot"?
As previously mentioned here, the group the Seekers have decided to sell the oft-photographed Johor Bigfoot footcast (see below).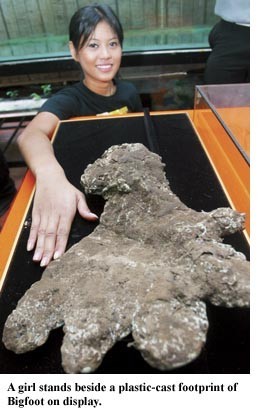 The cast is the one that Joshua Gates, the host of the Sci-Fi Channel's Destination: Truth, and his producer Neil Mandt were filming in Johor, last February. Their reality program does not seem to be on the fall schedule, however.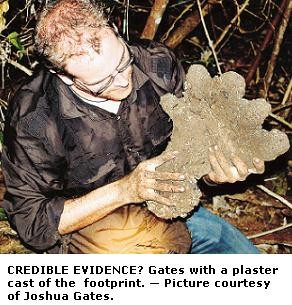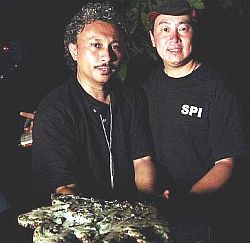 Syed Abdullah (left) and Dr. Kenny Fong with the Singapore-based group, SPI, are shown above with the cast.
The importance of this cast to the Seekers has waded. That Kuala Lumpur, Malaysia-based group had originally expressed serious interest in researching the hairy hominoid but they are now reportedly selling their rather famed footprint cast prize. The reason: The Seekers wish to fund their analysis of their three "mummies." It might already be gone.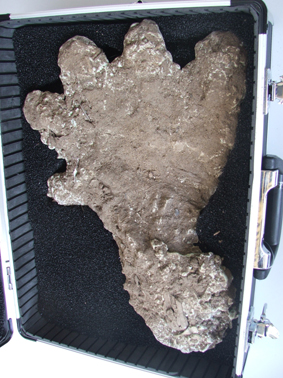 Even though I think these mummies (one pictured at the top) routinely are taxidermy-created art objects, perhaps Cryptomundo readers have more insights about these specific "mummies."
Frankly, I'd keep the Johor "Bigfoot" cast. If the Seekers would like to contact me about it being placed safely in a cryptozoological museum, I hope they do. I suggest this versus this cast going into the increasing black market of international cryptozoological items – such as the Pangboche Yeti hand that was stolen from Nepal in the 1990s and has completely disappeared.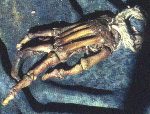 Loren Coleman – has written 5489 posts on this site.
Loren Coleman no longer writes for Cryptomundo. His archived posts remain here at Cryptomundo.