Posted by: Loren Coleman on January 6th, 2010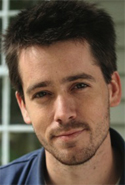 Artist, without the Bigfoot costume.
As The Keene Sentinel notes, "In early fall, Keene resident Jonathan C. Doyle had a spontaneous idea: Dress as Bigfoot and appear atop the summit of Mount Monadnock. He surprised some 80 hikers, then shot video of interviews with them and posted the clip on YouTube."
Park rangers were not happy to discover Doyle did it again, but even bigger, according to National Public Radio. The rangers kicked him out of the park, because he didn't have a permit.
Now, as the Associated Press is reporting, Jonathan Doyle, a Keene, New Hampshire artist and videographer, the man who dressed as Bigfoot in that state park, "says his rights were trampled by big government."
A complaint filed in a letter to the state parks department, Doyle notes that "a Mount Monadnock park ranger halted his performance art project in the fall [of 2009] because he didn't have a permit."
In newly generated publicity, Doyle announced that the December 14, 2009 letter was sent to George Bald, commissioner of New Hampshire's Department of Resources and Economic Development (which includes the Parks Department), stating that the special permit rule is vague, giving "unchecked discretion" to the park director.
The Washington Post summarized: "Doyle is arguing through the New Hampshire Civil Liberties Union Foundation that his free-speech rights were violated when he was expelled from the state park in Jaffrey. He says he and others with him, some also in costume, were on a lesser-used trail and weren't bothering other park visitors. Doyle says the state hasn't responded to his letter. The Division of Parks and Recreation says it has been forwarded to the state attorney general's office."
The last three days of the resulting media storm must be sweet news to Doyle and his investors. A few months ago Doyle "told his business group that he was frustrated with traditional ways of getting people to visit his Web site, but that after this stunt (and a resulting front page article in the Keene Sentinel), his site received an amazing number of hits," according to e-Network.
Doyle appears to have achieved his goal to get major media attention for his stunt. We are just happy he wasn't killed by a wayward New Hampshire hunter, out to bring back the ultimate proof that Bigfoot exists.
Loren Coleman – has written 5489 posts on this site.
Loren Coleman no longer writes for Cryptomundo. His archived posts remain here at Cryptomundo.