Posted by: Loren Coleman on October 14th, 2009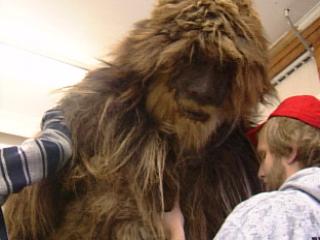 Bigfoot being lifted into place by Eric Russell (arm shown) and Andy Cash. Video grab by WCSH-TV/Tim Goff, Multimedia Journalist.
Quotes of the day:
Typically I am known as a Bigfoot whisperer, but it is not confirmed [smiling/laughing].

It is a big task, but it is definitely is helping him out.

Feejee Mermaid. Bigfoot prints. So much stuff, I mean, hair samples from Sasquatch.

I would be hard pressed to say that all of the stuff that he has for the museum will fit in there.

Jeff Meuse,
crew chief of the movers and
number one museum docent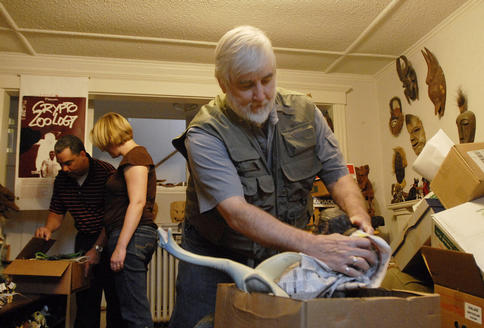 Loren Coleman of the International Cryptozoology Museum packs up artifacts to be moved from his home to 661 Congress St. in Portland. At rear are volunteers Jeff and Jessica Meuse of South Portland, who are helping Coleman with his move. Photo: Shawn Patrick Ouellette/Portland Press Herald Staff Photographer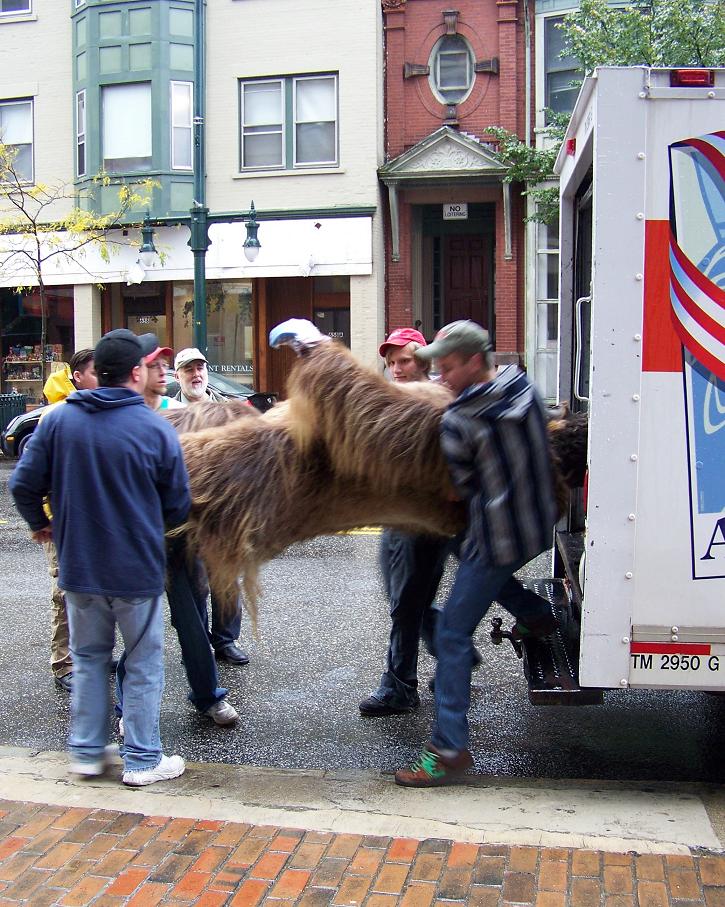 From Left to Right: Sean Casey, Jeff Meuse, Jeff Whitehouse, Loren Coleman, Bigfoot being lifted, Andy Cash, Eric Russell, with photography by Jessica Meuse.
We moved about 40,000 books I think that first move, so that one was definitely a lot tougher. That took a long time. This one actually was awkward, but easier to move.

He definitely is an interesting character, both Bigfoot and Mr. Coleman.

It is definitely something to consider and think about because there is a lot of space on this Earth that has been uncharted and we just don't know.

Jeff Whitehouse,
one of the hired hands
helping with the move
From Tim Goff's article, Bigfoot Sighted In Downtown Portland, WCSH, Channel 6, NBC News, Portland, Maine, October 13, 2009.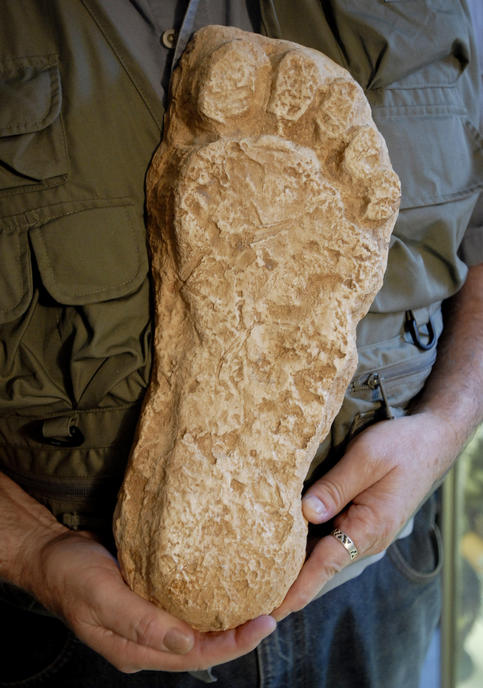 Coleman displays a cast made from a supposed Bigfoot footprint that was found in Washington state in the 1980s. Photo: Shawn Patrick Ouellette/Portland Press Herald Staff Photographer.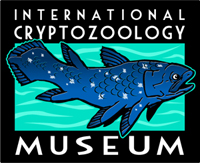 Join Jeff Meuse, Jeff Whitehouse, and all the crew today in positively assisting the move of the International Cryptozoology Museum, as it soon opens in downtown Portland, Maine (on November 1st). Please click on the "donate" button below (not the one up top) to take you to PayPal to send in your museum contribution.
Thank you.
Loren Coleman – has written 5489 posts on this site.
Loren Coleman no longer writes for Cryptomundo. His archived posts remain here at Cryptomundo.