Posted by: Loren Coleman on January 31st, 2009
If you watch the Super Bowl for the ads as much as the game sometimes, perhaps more so this year for me because the Patriots aren't playing, look for the Bigfoot on Sunday.
Okay, well, it is not exactly Bigfoot, but in the "Land of the Lost" television ads on the Super Bowl XLIII, you'll be able to spy the hairy apeboy character "Cha-Ka."
This Cha-Ka is being portrayed by "Saturday Night Live" comedian Jorma Taccone (see below).
Watch for Cha-Ka.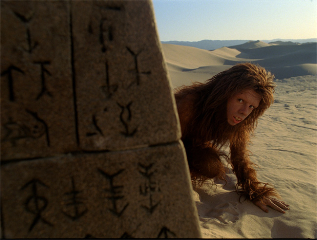 The figure is a young male, one of the morally ambiguous so-called "cave men" labeled Pakuni (one of whom is Cha-Ka).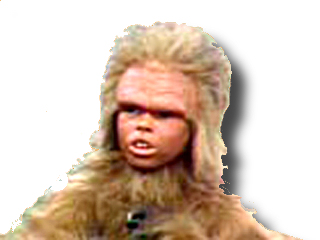 The original Cha-Ka, played by Philip Paley.
Another cryptid that made an appearance in the third season of the original TV "Land of the Lost" series (1974–1976) was a Yeti-like creature called Kona that lives high in the mountains. The Kona was prevented from descending into the rainforest by a guardian statue left behind by the Altrusians.
Hey, no one said this posting was about exacting science; it's cryptofiction entertainment. Sort of like the Super Bowl.
Super Bowl XLIII airs: February 1, 2009 at 6 p.m. ET/ 3 p.m. PT; Network: NBC.
Oh ya, I almost forgot, the Geico "Cave Men" might be visible too in some ads, but they do take offense to being called "Cave Men," so to call them "Bigfoot" or "Neandertals" probably won't go over too well.
Thanks to my anonymous Red Team contact in Iraq (I'm serious) who forwarded this unclassified intel to me.
Loren Coleman – has written 5489 posts on this site.
Loren Coleman no longer writes for Cryptomundo. His archived posts remain here at Cryptomundo.