Posted by: Loren Coleman on January 25th, 2007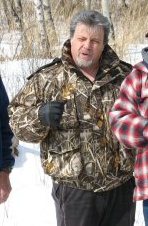 Tom Biscardi, perhaps pondering how many $500 subscribers exist in the Willamette Valley, the most densely populated and agriculturally productive region of the state of Oregon.
Reporter Ian Demsky of the Willamette Week was given the assignment to "dig up the dirt" on Tom Biscardi, due to a forthcoming "event" in their community. He interviewed people across the United States about Biscardi, and of course, read some of the blogs here. Demsky talked to me for several hours over a few days about the guy.
The result?
Here's what Demsky says in his email today, as he shares his final story:
My editors didn't give me a chance to do an actual story on Biscardi, but we did get something up about it online with lots of links. – Ian Demsky.
Willamette Week
The Notorious Bigfoot Hunter by Ian Demsky
January 25th 2007

Tom Biscardi is arguably the most vilified man in the subculture of Bigfoot enthusiasts and researchers. Cast by many cryptozoologists as a two-bit huckster, the former Vegas promoter will be in Portland later this month to lecture and show clips from a new documentary, "Bigfoot Lives."

Besides the surprising fact that the "Bigfoot community" has its own rogues and outsiders, we'll bet you didn't know that Portland was home to the International Bigfoot Society (which meets monthly at Home Plate in North Portland). Or that, accoring to the IBS sightings database,, Oregon ranks No. 1 for reports to the (perhaps) legendary hominid—second-ranked Washington has fewer than half as many sightings.

"Bigfoot Lives," directed by Todd Douglas Bailey, sells for $30 at Biscardi's web store. (You can also buy a lifetime membership to searchingforbigfoot.com for $500—which includes "all three of our exclusive videos, a mug, a hat, and our t-shirt. But that's not all! You will also get a ten percent discount on all SfBI upcoming activities such as joining expeditions and viewing museum displays as well a viewing all articles/pictures!")

The documentary offers something for everybody—Biscardi-bashers, believers and fence-straddlers. Biscardi and his team travel across the country documenting possible sightings, speaking with eye-witnesses, taking footprint casts, playing "actual" recordings of the creature to lure others and aiming night-vision cameras at the deep, dark woods. Biscardi estimates there are 3,500 Bigfoot (Bigfoots? Bigfeet?) roaming the US in migratory patterns.

For more on Biscardi's storied history click here and here.Ian Demsky
Loren Coleman – has written 5489 posts on this site.
Loren Coleman no longer writes for Cryptomundo. His archived posts remain here at Cryptomundo.