Posted by: Loren Coleman on June 21st, 2008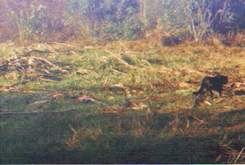 Panthers, the mysterious felid kind, have been in the news of late. Here's a roundup.
In Mississippi, the encounters are becoming so frequent the media is comparing them to Sasquatch sightings. Fancy that.
Jamie Daughdrill of Brooklyn, Mississippi, is one of those area residents who claims to have proof that a black panther roams the southern part of Forrest County. He has a photo (above) of a black feline walking across his food plot that he took with his game camera. But he couldn't find any tracks near the game camera.
"All I'm saying is that it's big and black and looks like a panther," he said. "I never said it was a panther, but I've heard all my life there weren't any in South Mississippi, but people are always hearing them.
"I've heard a bunch of people around Carnes in Red Creek that have said they hear one at certain times during the year. My wife's grandfather said he had seen one once."
Local radio show host Ben Willoughby worked together with a couple of local taxidermists to see if they could get anyone to provide proof of a panther for a handsome reward.
"We kind of laugh about it," said Kyle Turner of Turner Bros. Taxidermy in Hattiesburg. "I can honestly say there were people scared to have their kids play in the backyard because of black panthers.
"We told them we'll give them $13,000 if they kill a black panther and bring it in. Me and Drew (Kyle's brother) gathered $1,000 each from friends, we could have gone to $50,000."
Willoughby put the contest to rest after three years when no hunter was able to produce a black panther, he told the Clarion Ledger.
"People almost get mad when you tell them that black panthers don't exist," Turner said. "If they exist, I'd love to see one."
Meanwhile, a Cryptomundo correspondent sends in this firsthand account:
June 15, 2008 ~ At 12:30 am while traveling on rt 77 in Strykersville, N.Y. I saw what I thought was a small black bear apparently just standing on the side of the road. The striking black color of its fur stood out much like that of a black bear, I turned around to investigate and was able to get within 10 feet of the animal, as it stepped off the road into some tall grass my wife and I observed the animals 3 foot long black tail, it was a black panther. My wife and I have been hunting for 20 years, we are very good at identifying animals, I would estimate the cat weighing 75 to 100 pounds. I reported to 911 in hopes that they could confirm any other reports of the cat or maybe some report of someone owning or losing such an animal, they knew of none.Robert Stevens
To date, 2008 is turning into a "hot" year for panthers, mystery cats, and phantom felines, as reports from Australia, New Zealand, the UK, Ireland, and the Midwest USA (Ohio, Illinois, Missouri, Michigan, Minnesota) have been coming in at a steady rate. Even the fakery of those South China tiger photos has kept the radar on Asia too. Despite official apologies from the forestry department in China, local farmer Zhou Zhenglong, who claims to have taken the pictures, insists they are genuine.
Mysteries abound.
Loren Coleman – has written 5489 posts on this site.
Loren Coleman no longer writes for Cryptomundo. His archived posts remain here at Cryptomundo.