Posted by: Loren Coleman on March 18th, 2010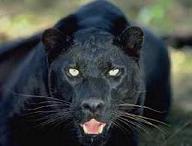 As folks who have read Mysterious America know, encounters with large, unknown melanistic cats have a long history in central Illinois.
Now comes breaking news of an extremely recent sighting from a city, which happens to be my hometown. The location is surrounded by corn and soybean fields and farms. The sighting noted took place on the north side of the town of Decatur, Illinois.
This comes in from Cyndie Simon, who was in Decatur for the funeral of her father.
Ms. Simon emails:
I would like to report what appeared to be a very large black panther running across the cul-de-sac and in-between [the houses of 109 and 115 Cambridge Court, in the Windsor Village area] at about 9:30 pm [on March 11, 2010].

What baffles me is how it just seemed to disappear into the dark. We first thought it was a huge black lab  [but we] then quickly realized, no this thing is running like a cat and much larger in size. There were four of us that saw it. It was real.
Has anyone heard of other recent sightings from Illinois?
Loren Coleman – has written 5489 posts on this site.
Loren Coleman no longer writes for Cryptomundo. His archived posts remain here at Cryptomundo.