Posted by: Loren Coleman on July 15th, 2009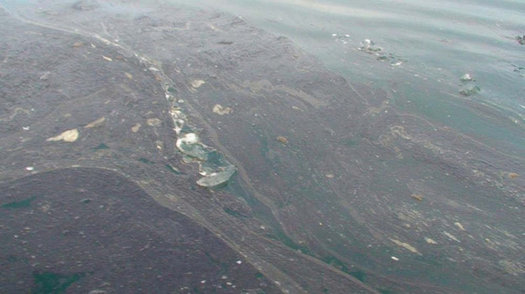 Photo courtesy North Slope Borough.
A mysterious glob of unknown material up to 12 miles long has appeared in the Arctic Ocean, off Alaska's northern coast. Coast Guard Petty Officer 1st Class Terry Hasenauer says, "It's certainly biological. It's definitely not an oil product of any kind. It has no characteristics of an oil, or a hazardous substance, for that matter. It's definitely, by the smell and the makeup of it, it's some sort of naturally occurring organic or otherwise marine organism."
Something big and strange is floating through the Chukchi Sea between Wainwright and Barrow, writes Don Hunter in the Anchorage Daily News.
The stuff is "gooey" and looks dark against the bright white ice floating in the Arctic Ocean.
Hasenauer said the Coast Guard's samples are being analyzed in Anchorage. Results may be back sometime next week, he said.
For more details and the complete article, see here.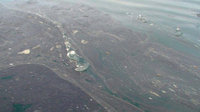 Loren Coleman – has written 5489 posts on this site.
Loren Coleman no longer writes for Cryptomundo. His archived posts remain here at Cryptomundo.