Posted by: Loren Coleman on June 12th, 2008
The Borneo Post is reporting on Friday the 13th of June, 2008, on the find of some incredible footprints. Even my colleague Mark A. Hall has only talked about "True Giants" in that corner of the world with tracks in the range of 22 inches long.
What are we to make of the following imprint, said to measure 47 inches long?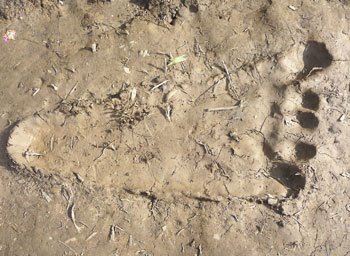 Is what is happening here merely a big planned hoax of two giant constructed imprints? Do these reporters understand how large a hominoid would be with 47 inches long feet?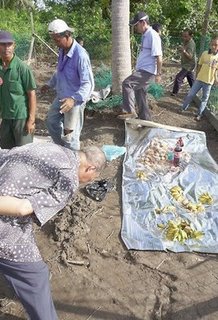 HUGE: Local community leader Pemanca Tan Poh Kuan is among those who visited the site to take a closer look at the mysterious footprints.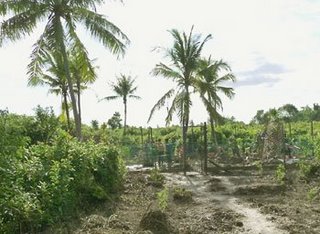 CLEARED PATH: All ready to receive visitors.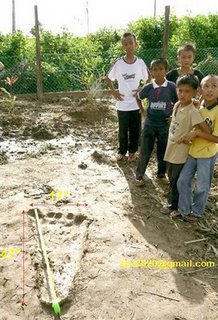 SHOCKING FIND: Picture shows a group of boys gathering around the right footprint which measures 47 inches by 17 inches.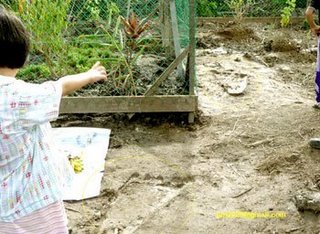 BIGFOOT TRAIL: A girl points to the two big footprints circled in yellow. The distance between the left footprint (foreground) and right footprint speaks volume of the size of 'Bigfoot'. — Photos courtesy of Tan Soon Kuang.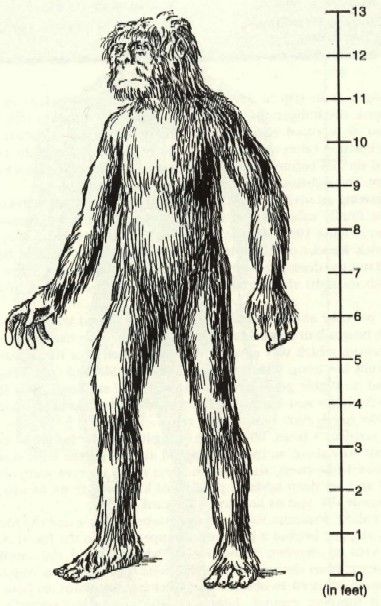 Harry Trumbore's illustration (above) is of the type of True Giant named Orang Dalam, found in Malaysia (from The Field Guide of Bigfoot and Other Mystery Primates, 2006). They are said to be upwards of 20 feet tall.
Villagers have no explanation for giant footprints but businessman says proof is in the pudding.

DARO [Borneo]: Villagers here are reeling from the shock of discovering two extra large footprints near the fence of a nearby orchard.

They probably resembled those mentioned many times in foreign reports in claims of sightings of the mysterious 'Bigfoot'.

The shocker has been spreading like wildfire in Daro district for the past few days and among those drawn to the phenomenon was local businessman Tan Soon Kuang.
…

Yesterday, Tan, 42, e-mailed the images of the mysterious creature's footprints. He said he personally went to the village (which he refused to name out of respect for the wishes of the locals) to check on the truth of the story.

"The truth is in the photographs that I have taken with my camera," he told The Borneo Post in a telephone interview yesterday.

According to him, each footprint measures 47 inches from heel to toe and 17 inches sideways "clearly too gigantic for any normal human being".

Asked when and how he went to the village and took the photos, Tan answered: "I went there last Wednesday, June 11 after I heard about the news.

"I drove about five minutes from Daro town to the village. Then, I walked on foot along a footpath for quite a few minutes to the place where I met many villagers who were gathered there.

"Then some villagers pointed to the big footprints. I was shocked to see them and excited as I took those photographs."

On his conversation with the villagers, he said: "When I asked the villagers the first time they discovered the two big footprints, they told me it was June 9.

"They also told me they now recall that before they came across the footprints, the villagers had, a few months ago felt uncomfortable and sick as if there was something 'unclean' in the air.

"They said they decided to look for a 'bomoh' (medicine man) who told them to go to an area, dig a small hole, then build a fence around it.

The bomoh further told them to make offerings outside the area fenced.

"And then last Monday morning the villagers saw the two big footprints outside the fenced up area."

Tan further said: "When I asked the villagers if they were afraid or not they told me some were afraid; other just curious. But all of them apparently believe that the place was 'unclean'.

"The villagers are now clearing up the footpath leading to the large footprints in anticipation of more people coming to have a look at the footprints.

"The villagers also told me that it was not the first time that they saw such mysterious big footprints in their village. In fact, the first time they saw such big footprints was about 50 years ago."

Asked if there is any possibility that the footprints were man-made, Tan said it would be a tough act for a person to create such a mark on the hard ground.

Jemoreng assemblyman Abu Seman Jahwie when contacted yesterday said he heard about such discovery somewhere in a village in Daro area.

Asked if thinks it is real, he replied: "Sorry, I can't say. It could be just rumours. I have not been to the place. I am now in Matu."

The story has spread to Sibu where Abdul Aziz Pung, who is very familiar with Daro, said he had heard about the footprints from friends and relatives.

"Yes, they said it is true. Initially I laughed it off, but then some of my friends who came down to Sibu town convinced me that they are real. I may be going there soon to see them for myself."

Meanwhile, a Daro villager who spoke on anonymity, said the villagers stumbled upon the footprints not far from the village that was once attacked by monkeys. This episode was reported by The Borneo Post some months ago.

According to him, many villagers believe that the monkeys had run out of their jungle habitat to escape from 'Bigfoot'.

"'Bigfoot' was here!" by Gaing Kunding, Raymond Tan and Conny Banji, The Borneo Post, June 13, 2008.
Loren Coleman – has written 5489 posts on this site.
Loren Coleman no longer writes for Cryptomundo. His archived posts remain here at Cryptomundo.