Posted by: Loren Coleman on June 29th, 2009
Bigfoot are reported, from time to time, in the Hockomock Swamp/Bridgewater Triangle.
The cultural wave of the Bridgewater Triangle can be seen below in the two distinctive examples of old-fashioned cryptozoo poster art from Mark Phelan.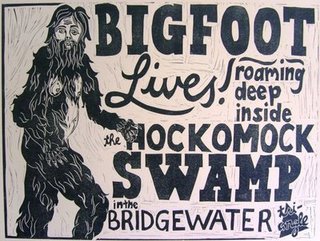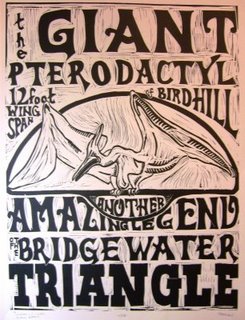 The beginnings of the use of the phrase I coined is slightly incorrect in the sharing of the attribution found in the "Bridgewater Triangle" entry from Wikipedia:
The Bridgewater Triangle is an area of about 200 square miles (520 km2) within southeastern Massachusetts in the United States. Since colonial times the area has been a site of alleged paranormal phenomena, ranging from UFO and "black helicopter" sightings (including many with multiple points of corroboration including police and a local news team), to poltergeists and orbs, balls of fire and other spectral phenomena, various "Bigfoot" sightings, giant snakes and 'thunderbirds', as well as the mutilation of cattle and other livestock.

Although known for centuries as an area of unusual and unexplained activity, the specific boundaries of the Bridgewater Triangle were first defined by paranormal researcher Loren Coleman in his book Mysterious America. The Triangle encompasses the towns of Abington, Rehoboth and Freetown at the points of the triangle, and Bridgewater, West Bridgewater, Middleboro, Dighton, Berkley, Raynham, Easton, Lakeville, and Taunton inside the triangle.

Central to the area is the mysterious and largely untouched Hockomock Swamp, which means "the place where spirits dwell", and which was called "The Devil's Swamp" by early settlers. The Triangle also contains several Indian burial grounds, as well as significant sites used by both natives and colonists during King Philip's War, which is said by some to be the source of several curses on the nearby land.
Actually, I coined the phrase "Bridgewater Triangle" in the 1970s, using it in correspondence with other researchers, in lectures, and with the media during my investigations there. I first used it in print in an article for the April 1980 issue of Boston Magazine entitled "The Bridgewater Triangle." I then expanded that article into a chapter in the first Faber and Faber edition of Mysterious America in 1983, and then updated it again for the Paraview publication of 2001 and 2006′s Simon and Schuster edition.
Mysterious America: The Ultimate Guide to the Nation's Weirdest Wonders, Strangest Spots, and Creepiest Creatures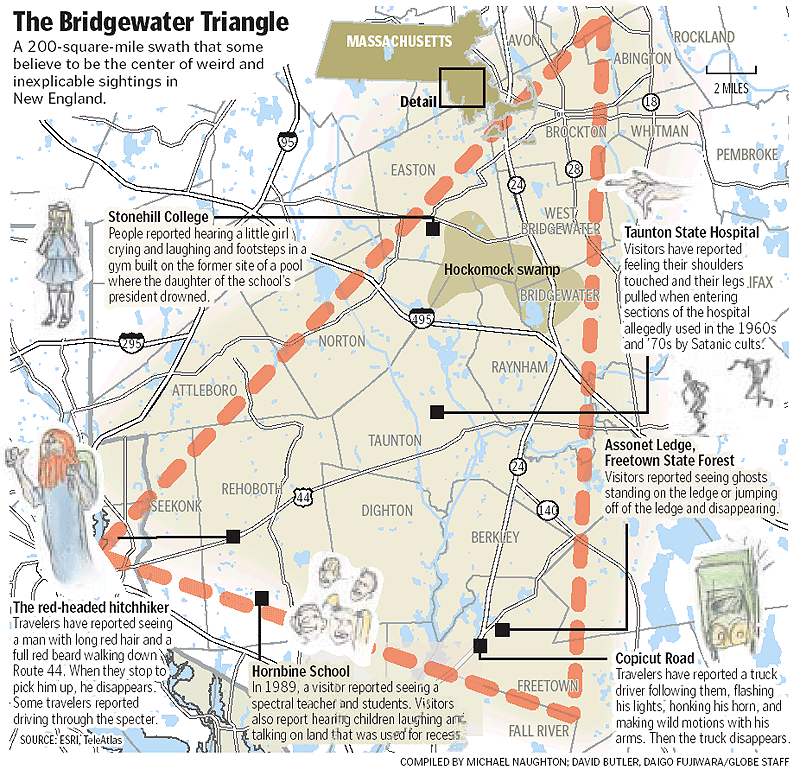 Map of the Bridgewater Triangle.
Loren Coleman – has written 5489 posts on this site.
Loren Coleman no longer writes for Cryptomundo. His archived posts remain here at Cryptomundo.