Posted by: Loren Coleman on January 21st, 2012
Today's cryptid is the Carolina parakeet, allegedly extinct but which may have surviving remnants, as reported from South Carolina.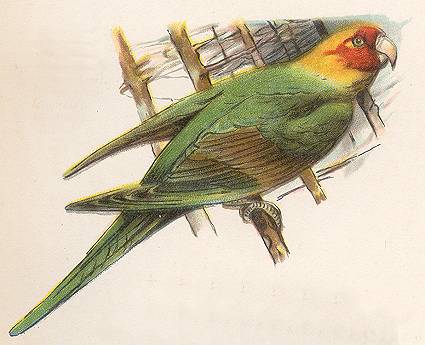 Art by Charles R. Knight.
The Carolina parakeet (Conuropsis carolinesis), a noisy, foot-long species, possibly the most colorful bird in North America, used to be a permanent resident of the coastal plains of the South, including South Carolina. The supposedly extinct species was the only parakeet (or parrot) native to the eastern United States.  It inhabited regions from the Ohio Valley to the Gulf of Mexico and forests of the great plains as far west as the Dakotas. These native parakeets also were reported to have inhabited southern Florida westward to central Texas.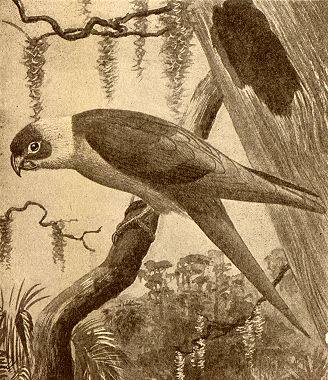 Art by Edmund J. Sawyer.
The Parakeets became rare by the 1880s.  Incas, a Carolina Parakeet in the Cincinnati Zoo died on February 21, 1918.  The last reported sighting in the wild was a small flock Florida in 1920.  It was declared extinct by the American Ornithologists Union in 1939.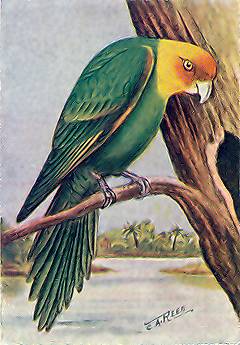 Art by Charles A. Reed.
Unconfirmed sightings of this wild parrot were reported in Alabama, Georgia, Florida and in the Santee Swamp of South Carolina into the 1930s. The actual date when the Carolina parakeet became extinct in its natural range is unknown but some ornithologists believe a few individuals survived until the late 1940s or early 1950s in Florida and South Carolina. The reasons for the reported extinct has been laid to habitat destruction, large numbers being shot for feathers, food and fun, and even foxes eating all of them. But several ornithologists don't believe these factors precipitated the rapid extinction of the last populations. For instance, one of the last healthy populations of Carolina parakeets, located in the Lake Okeechobee area of Florida, vanished even though adequate habitat remained and the birds were not persecuted by shooting or trapping, according to "The Extinct Carolina Parakeet" and other sources.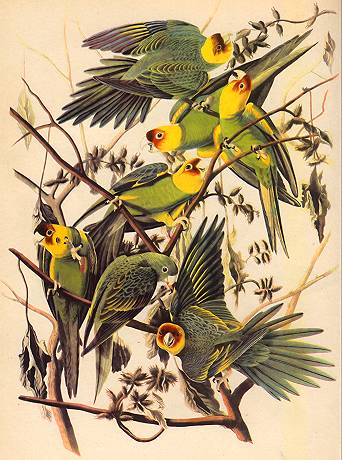 Art by John James Audubon.
Are they still being seen in South Carolina? (Do not confuse them with random populations found in some areas of South American feral parrots and parakeets, which have been well-documented.)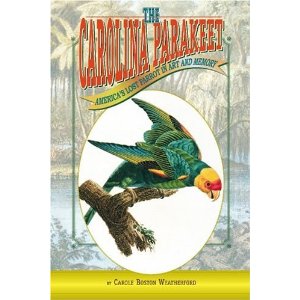 An excellent book on the topic is the 2006 volume, The Carolina Parakeet: America's Lost Parrot In Art And Memory by Carole Boston Weatherford.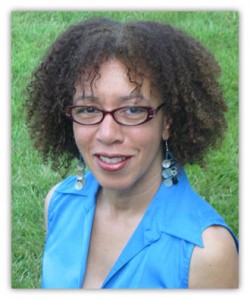 Carole Boston Weatherford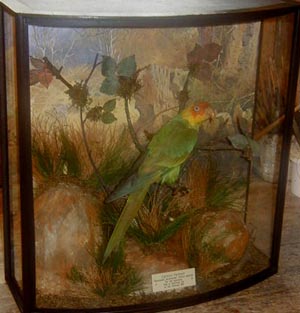 The International Cryptozoology Museum is attempting to obtain a Carolina Parakeet (as shown from here) for its collection. Do you know of any?
Loren Coleman – has written 5489 posts on this site.
Loren Coleman no longer writes for Cryptomundo. His archived posts remain here at Cryptomundo.