Posted by: Loren Coleman on March 30th, 2011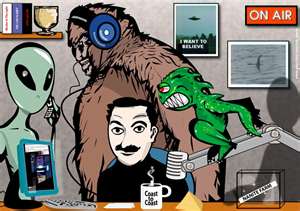 The program, Coast to Coast AM with George Noory, has now broadcast their "Search for Bigfoot" (and True Giants, too) on Tuesday, March 29, 2011.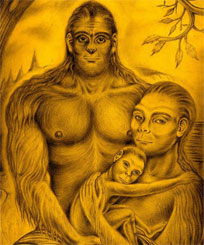 Illustration: Pierre Jefferson.
Here's the C2C description of their show:
Search for Bigfoot (Tue 03-29)
Three experts in the field of cryptozoology will discuss the latest findings and technology in the search for Bigfoot. In order of appearance: Dr. Jeffrey Meldrum, Daniel Perez, Loren Coleman.
And in summary, of what was said:
Three experts in the field of cryptozoology discussed the latest findings and theories in the search for Bigfoot, in separate one-hour appearances. First up, Professor of Anatomy and Anthropology Jeffrey Meldrum reviewed various types of data that suggest that the elusive creature isn't particularly human-like. For instance, there's no evidence that Bigfoot use tools or build permanent shelters, which would put them on an intelligence level comparable to that of gorillas, he said. Latest research he's involved in, includes the study of hair samples that continue to defy any attribution to common wildlife, and the use of search & recovery dogs to identify the tissue of great apes/primates.
Founder of the Center for Bigfoot Studies, Daniel Perez suggested that it was simply the rarity of the species that makes it seem like the creature has an inter-dimensional aspect. He considers the best evidence to date to be the 1967 Patterson/Gimlin film, though he also praised photos taken by a backpacker at Silver Star Mountain in 2005. Perez said he went back to the site with the hiker, and it became clear that the photos couldn't be reproduced just by having a person dress in black in the distance.
Last hour guest, cryptozoologist Loren Coleman spoke about his latest book, True Giants (co-written with Mark Hall), which looks at lesser-known Bigfoot cases involving larger-sized creatures. The typical height in Bigfoot sightings ranges from 6 ½ to 8 ft. tall, but there have been reports of a creature that is 15-20 ft. tall. This giant leaves a 4-toed footprint and is thinner than the usual Bigfoot, he detailed.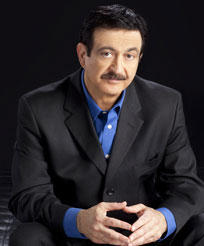 "Search for Bigfoot" can be replayed by following the links at Coast to Coast AM with George Noory. .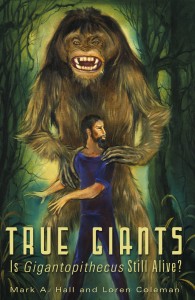 I was on during the program's last hour (1 am-2 am Pacific, 4 am-5 am Eastern on the morning of Wednesday, March 30, 2011) talking about Bigfoot and my recent True Giants book. George did a wonderful job of hosting and promoting the new Hall/Coleman book.
Thanks for listening.
Loren Coleman – has written 5489 posts on this site.
Loren Coleman no longer writes for Cryptomundo. His archived posts remain here at Cryptomundo.