Posted by: Loren Coleman on February 19th, 2007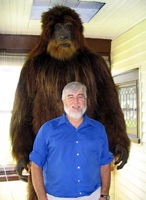 Setting the Record Straight: CareerBuilder.com
I have been told and asked about some statements that have been attributed to me in an "article" that appeared a little over a week ago. Apparently, in various Sunday CareerBuilder.com special insert sections of The Baltimore Sun, The Chicago Tribune, and other newspapers for February 11, 2007, I was profiled. I have been identified as having the profession: "Bigfoot Hunter," in some versions of the piece. I was not paid for this item, and wonder if it is more an ad than an article?
Anyway, the written treatment in the CareerBuilder.com section sounds like it may have been hastenly written. Regarding my involvement with the Dover Demon, the piece notes that I "discovered" the Dover Demon. Apparently what this writer was trying to say was that I "investigated" the case, and "coined" the term "Dover Demon," as detailed in Mysterious America.
I have seen discussions of this on one Skeptics site, and now am getting emails from skeptics and others.
Too bad the piece was so badly mangled, as there are many extremely available online sites that have clearer biographical information about me, which could have been used to fact-check some items.
For some skeptics who wish to worry about this planted piece (really a CareerBuilder.com ad), I assure them, there are a lot more interesting stuff to discuss than whether or not my career in cryptozoology qualifies me to be called a "Bigfoot Hunter." If the written piece said, "Dream Job? Here's One: Searching For Bigfoot," well, then I guess it was basically correct, within the parameters I've discussed here before. Seeking and looking for Bigfoot has taken me to 57 states and provinces in the USA and Canada, doing many levels of fieldwork, interviewing, investigating, and chronicling since 1960.
But people other than me write these articles, based upon their own criteria. What I have done and continue to do within the field of cryptozoology is part of the public record, of course.
Wikipedia gets closer to the truth than CareerBuilder.com does.
But remember, don't believe everything you read. I haven't "discovered" the Dover Demon, per se. Yet.
Loren Coleman – has written 5489 posts on this site.
Loren Coleman no longer writes for Cryptomundo. His archived posts remain here at Cryptomundo.