Posted by: Loren Coleman on August 18th, 2007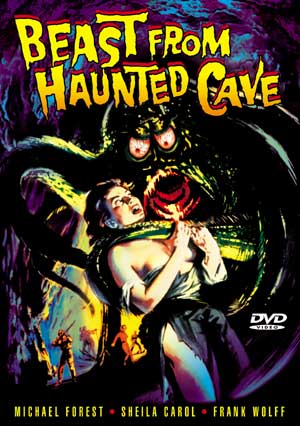 The film was Beast From Haunted Cave, released in 1959, and filmed in Deadwood, South Dakota.
Alexander "Alex" Ward (Frank Wolff), who along with his lover Gypsy Boulet (Sheila Carol), leads a gang of gold thieves (Richard Sinatra, Wally Campo) in pulling off a heist and fleeing into the snowy wilderness. But they find themselves being pursued by a horrible, spider-like monster.
For Tony Carras, it would be one of his first bigtime movie jobs, as the editor. Tony Carras came to be known for his beach and monster movies.
Anthony "Tony" Carras was born on November 23, 1920, in Detroit, Michigan, to Greek parents hoping for a new life in America. He passed away August 15, 2007.
Carras was a courageous and patriotic man, serving his country as a B-24 bomber pilot, 8th Air Force, in WWII (35 missions). He returned home to start his career as a film and sound editor, writer, and ultimately producer and director, graduating second in his class from Pasadena Playhouse. Most notably was his mark on Americana with the "Beach Party" movies with Annette and Frankie.
The movies he edited included ones that might even sound familiar, such as A Bucket of Blood (1959) and Tarzan and the Great River (1967). He went on to produce and direct others like Operation Bikini (1963), Bikini Beach (1964), Muscle Beach Party (1964), Dr. Goldfoot and the Bikini Machine (1965), and Rancho del miedo (House of Fear) (1971).
He is survived by his wife, Catherine, of 63 years; daughters, Diane, Linda, Judy, Catherine, and son, Anthony; nine grandchildren and four great-grandchildren.
Our condolences to his family.
Loren Coleman – has written 5489 posts on this site.
Loren Coleman no longer writes for Cryptomundo. His archived posts remain here at Cryptomundo.