Posted by: Loren Coleman on June 19th, 2008
The breaking news headline I read this morning was unbelievable, for two reasons: (1) I knew, very well, the person charged, and (2) the media decided to highlight the fact the individual is a "Bigfoot hunter."
The Examiner headline shouted out: "Bel Air Bigfoot hunter indicted on charges of making drugs," for June 19, 2008, in an article by Matthew Santoni.
Many readers here are familiar with his name. I've known Bob Chance for years, since we both were long distance correspondents and friends of Ivan T. Sanderson, back in the 1960s, the good ole days of the Society for the Investigation of the Unexplained (SITU).
I've seen Bob at conferences, now and then, for years. I had hoped recently for the best for him, as he told me quietly he was living with and dying of cancer.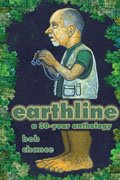 Bob had been proud of his new book of his old columns.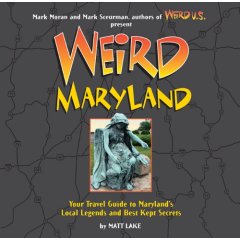 He is profiled in Matt Lake's Weird Maryland as that state's Bigfoot hunter. Things were going as well as they could go for Bob.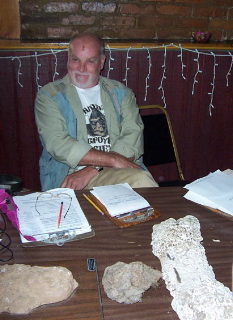 The Pennsylvania Bigfoot Society recently announced the return of the East Coast Bigfoot Conference for 2008, and noted that it would feature Bob Chance as the keynote speaker. Chance had also been a speaker at the 2006 East Coast Bigfoot Conference (photo above).
But, now this.
Here's the story:
A former Bel Air town commissioner, author, environmentalist and Bigfoot tracker has been indicted in Harford County on charges of possessing marijuana with intent to distribute.

Robert Chance, a Darlington tree farmer and nature columnist for The Aegis and The Record newspapers, was indicted recently on charges of possessing marijuana; possession with intent to distribute; manufacturing or distributing a controlled, dangerous substance; possessing a controlled, dangerous substance other than marijuana, and being a common nuisance by distributing drugs, according to court documents.

Police had received a tip that Chance, 62, was growing marijuana on his property, said State's Attorney Joseph Cassilly. A subsequent search of the property found marijuana and hallucinogenic mushrooms, he said.

In Maryland, intent to distribute is legally determined by a combination of the quantity of drugs and the presence of other factors, such as money or packaging materials, Cassilly said, and in Chance's case there was a large enough quantity to qualify.

A Harford grand jury indicted Chance on May 20, and he was taken into custody June 6. He posted a $25,000 bond the same day and was released.

Chance served on the Bel Air Board of Town Commissioners from 1975 to 1979, after helping to establish the county's first recycling center. He also taught science at Bel Air and C. Milton Wright high schools before taking over the Harford Glen Environmental Education Center in 1991 and retiring in 1999.

His efforts to scientifically track Harford sightings of Bigfoot were chronicled in the 2006 book "Weird Maryland," and Chance had just published a collection of his Earthline columns spanning 30 years.

"He was a great schoolteacher and remains a really great, community-minded guy," said Bel Air Commissioner Terry Hanley, who said he has bought several trees from Chance's farm. "I'm a little surprised."

Chance is scheduled for arraignment July 8.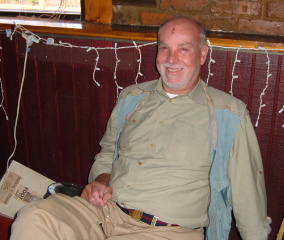 My best wishes to an old friend of cryptozoology, and to me personally, in these troubling legal times.
Loren Coleman – has written 5489 posts on this site.
Loren Coleman no longer writes for Cryptomundo. His archived posts remain here at Cryptomundo.