Posted by: Loren Coleman on April 24th, 2008
Chasing Discovery has its world premiere at St. Michael's College today.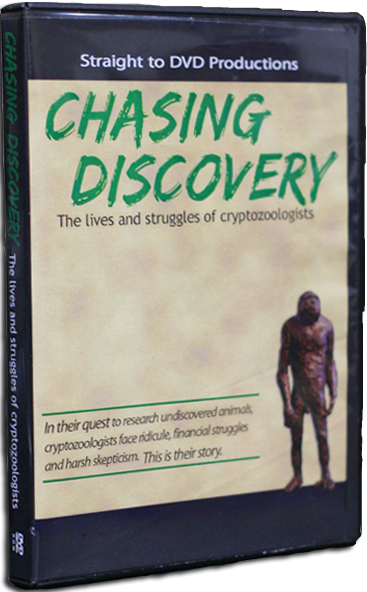 I thought Cryptomundians would be interested in this new film:
There's something out there…
And the men and women of cryptozoology are determined to find it. The researchers in this relatively obscure science face ridicule, financial struggles and harsh skepticism in their quest to uncover the secrets of mystery animals such as Bigfoot, Nessie and Chupacabras.
This is their story…
Chasing Discovery seeks to understand the researchers who delve into the zoological unknown. The cryptozoologists featured have devoted decades to researching undiscovered animals, and are among the foremost researchers in the field. Many scientists have deemed cryptozoology a pseudoscience and a poor use of time, but these researchers are unfazed.
The financial sacrifices that they have made have allowed the research to continue, but even the world's leading cryptozoologist struggles to pay the rent each month.
Chasing Discovery takes a unique approach towards cryptozoology, turning the cameras on the researchers themselves rather than focusing on the animals they study. It is the story of unyielding passion in a field of uncertainty.
Total Running Time: 40 minutes
Bonus Features: 15 minutes of bonus features, including a Loren Coleman guided tour through the International Cryptozoology Museum, and Jeff Meldrum giving a tour of his Idaho State University research lab, featuring more than two hundred Bigfoot footprint casts.
Characters:
Cryptozoologists
Loren Coleman
Gary Mangiacopra
Scott Mardis
Jeff Meldrum
Pat Spain
Biologists
Ellen Marsden
Psychologists
Ari Kirshenbaum
Steven Lawyer
Loren Coleman – has written 5489 posts on this site.
Loren Coleman no longer writes for Cryptomundo. His archived posts remain here at Cryptomundo.