Posted by: Loren Coleman on August 7th, 2010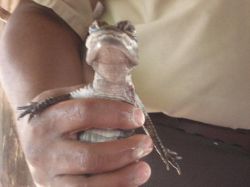 The summer crazy crocs keep turning up, this time in Chicagoland.
The alligator was first reported by UPI and Chicago area media on August 5, 2010, to have been seen by a passerby. Animal control officers also made a brief sighting later that day, the Chicago Tribune reported. When a Chicago Herpetological Society member found it in the trap in a city park at 5 a.m. Friday, August 6, 2010, the alligator turned out to be 2.5 feet from snout to tail.
Eloy Navarro, who saw the alligator, said it was "just a baby."
Cherie Travis, director of the Chicago Animal Care and Control Commission, said the alligator was probably a former pet. She said its adventures illustrate why keeping dangerous animals as pets is illegal in Illinois.
"Anything's cute when it's little, including a baby alligator, and it probably was released because it was getting bigger and acting more like what it is — a wild animal," Travis told the Tribune.
Loren Coleman – has written 5489 posts on this site.
Loren Coleman no longer writes for Cryptomundo. His archived posts remain here at Cryptomundo.