Posted by: Loren Coleman on February 23rd, 2007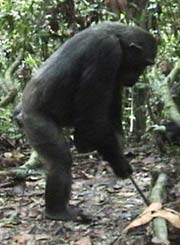 News out of Africa about chimpanzees fashioning and using tools has a direct impact on a recent debate about Bigfoot. As you will recall, M. K. Davis made public statements about a stick being held by the Patterson-Gimlin Bigfoot, and connected it to Bigfoot being human, due to that stick. Besides the fact few could see the stick that Davis saw, the counterpoint is that great apes do use sticks, of course, and use of such a tool is no measure of "humanity."
I am not going to rehash the entire unfolding of the new finding readily available via this article, "Chimps Use 'Spears' to Hunt Mammals, Study Says" and now being seen in news rewrites around the world.
But here's a one sentence summary of what has been discovered and announced this week:
No fewer than 22 times, researchers documented wild chimpanzees on an African savanna fashioning sticks into "spears" to hunt small primates called lesser bush babies.John Roach,National Geographic News
What does this have to do with cryptozoology, Cryptomundo, and Bigfoot affairs? Well, as you may remember, those recent comments from M.K. Davis noted that if Bigfoot carries a big stick, it must be human (specifically via an unfortunate characterization of a certain group of California native peoples). As this new African research shows, using a tool, or even killing with a stick, does not equal "being human."
I found that the Patterson subject was carrying…a stick.M. K. Davis, December 3, 2006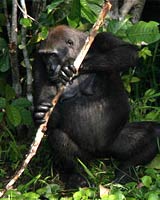 Above (top and directly here) are two photographs; (1) a common chimpanzee (Pan troglodytes) digging with a stick; and (2) a lowland gorilla (Gorilla gorilla) with a stick. We now know that chimps also kill and attempt to kill with sticks.
If the Patterson Bigfoot was carrying a stick, which I doubt, does not inform any finding as to Bigfoot being a form of undiscovered ape, versus Davis' idea that it must be an "Indian."
For more on the Davis-Bigfoot discussion, see the following postings and the links to be found therein: "Bigfoot With A Stick?", and "What Stick?", where Green, Noll, and Murphy dispute the fact there is even a stick being held by the Bigfoot shown in the Patterson-Gimlin footage.
Loren Coleman – has written 5489 posts on this site.
Loren Coleman no longer writes for Cryptomundo. His archived posts remain here at Cryptomundo.