Posted by: Loren Coleman on July 26th, 2006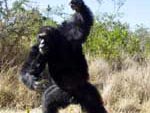 = Misidentified Bigfoot?
The Cryptomundo story on July 25th, California "Chimp" With Club: Is It Bigfoot?, was picked up by such outlets as The Anomalist and Boing Boing. The story now has jumped to the wire services, with UPI sending it around the world (from India to Florida) for Wednesday, July 26.
In Monday's 4:30 PM late dispatch from the Ventura County Sheriff's department, via the Ventura County Star, authorities still were not able to locate the alleged "chimpanzee" seen with a club in his hand in a Thousand Oaks backyard. By late afternoon, there were no more sightings of the chimpanzee.
No new reports of sightings occurred on Tuesday, July 25, either, to the best of our knowledge. I expect that if there is more activity, we could hear about it first from Cryptomundo readers.
Cryptozoologist Chad Arment, author of two books on the subject as noted in the previous column, had this to say about one element of the event:
There's another question that's begged: why was it called a "club"? That implies cultural purpose (a tool for bashing things), as opposed to just a big stick. Was the animal seen using it, or just carrying it? Did the stick appear modified in any way? Or is there a belief that any stick carried by an ape is a "club"? (And, I suppose, was "club" part of the original description, or did the newspaper modify the report?)
Cryptomundo looks forward to any new sightings or a resolution to this mystery, soon.
Loren Coleman – has written 5489 posts on this site.
Loren Coleman no longer writes for Cryptomundo. His archived posts remain here at Cryptomundo.