Posted by: Loren Coleman on March 11th, 2006
In this week's This Alaskan Life, in a longer profile article, there is the brief mention of a "new" Bigfoot movie coming to a DVD store near you:
One day in 2001, Don Rearden got an email from movie director Karl Kozak, who was looking for someone to write a screenplay about Bigfoot. Rearden replied immediately. Growing up in Bethel, Rearden had heard a lot of "hairy man" stories, and he considered himself a student of Sasquatch lore….Rearden's Bigfoot script – originally titled Terra Incognito, then changed to The Legend of Echo Mountain, then to The Unknown, and appearing soon at Blockbuster as Clawed: The Legend of Bigfoot – drew on his experience hunting moose and caribou around Bethel, where his family moved when he was eight.
This, as noted, is known more widely as The Unknown (2005):
When a group of poachers are found dead in the deep forests of the Pacific Northwest, a mob of revenge hungry hunters pursue the beast while four high school seniors try to save it.
Intriguingly, this movie's new name may have been misidentified in the news item, for we find a listing at Amazon.com for Clawed: The Legend of Sasquatch, which is scheduled to be released on May 16, 2006.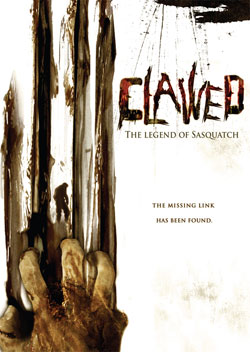 Is The Unknown, soon to be Clawed, worthy of being added to the Bigfoot Movie Hall of Fame or the Hall of Shame? What is your opinion of this motion picture?
Loren Coleman – has written 5489 posts on this site.
Loren Coleman no longer writes for Cryptomundo. His archived posts remain here at Cryptomundo.