Posted by: Loren Coleman on February 17th, 2007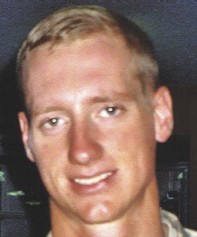 On February 8, 2007, the war in Iraq took someone who had lived a life that pursued passions in Bigfoot, dinosaurs, and "the unbelievable," as one friend recalled.
Ross "Rocco" Clevenger (pictured above), 21, of Marsing, Idaho, was a U.S. Army Reserve sergeant, who died with two other Idaho buddies when a roadside bomb hit their armored vehicle in Iraq.
Today, Clevenger's funeral will be held in the Idaho gym of the high school he attended.
In his friends' remembrances, it is clear Clevenger shared many interests of all of us here. Here's some of those recollections:
It's hard to pick out one memory of Ross, he was a guy so unique every time you talked to him was a memory. What comes to mind when I think about Ross would be his creativeness and his unfailing belief in the unbelievable. Speech class in 10th would be the best example, when Ross did a speech on the existence of Bigfoot. The whole class was crying from laughter. He has been a hero of mine for awhile now; I'm glad the world views him as one too.— Amy Sullens
I remember him when we were in elementary school. You couldn't catch him without a dinosaur in his hand.— Amie Vanek
In sixth grade, everyone would tease Ross and I, saying that we would make a good couple because we both had blond hair. The next year, using his junior high charm, we started dating. We had a lot of fun in junior high and high school and I will never forget his dinosaur run. You know what I'm talking about.— Rebekah Anderson
I remember him hardcore into dinosaurs when he was little.— Buddy Sevy
He was the 'Dinosaur Man.' He knew everything there was to know about them. Growing up in grade school he thought they were just the best thing since sliced bread.— Shannon Ineck
For more remembrances of Ross Clevenger, please read here.
Celebrities are not neccessarily just those that are on entertainment news day after day, when they die mysteriously in casino hotel rooms. I consider the real celebrities the people like Rocco Clevenger who deserve to be discussed and remembered for a very long time. My sympathies to his family and friends.
Loren Coleman – has written 5489 posts on this site.
Loren Coleman no longer writes for Cryptomundo. His archived posts remain here at Cryptomundo.