Posted by: Loren Coleman on February 22nd, 2007
I can assure you that this is going to draw phenomenal interest. It is truly amazing.Steve O'Shea
Auckland's University of Technology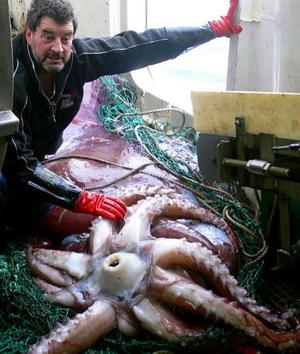 On February 22, 2007, various sources, including the BBC News announced that New Zealand Fisheries Minister Jim Anderton said a Colossal Squid ( Mesonychoteuthis hamiltoni), estimated as 33 feet (10 meters) long and 990 pound (450 kilograms) in weight, has been captured.
Fishermen on the vessel San Aspiring, owned by the Sanford seafood company, caught the animal in the cold Antarctic waters of the Ross Sea. It was brought to the surface as it fed on a Patagonian toothfish that had been caught off a long line. The specimen eclipsed the previous largest find. The new specimen is still shorter than some larger estimates have predicted. Bigger examples may be seen in the future.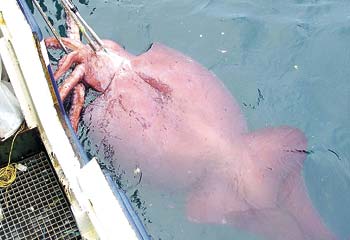 The 450 kg squid is hauled beside the fishing boat and brought aboard. Picture: NZ Ministry of Fisheries / AAP
Colossal squid, which are found deep in Antarctic waters, are thought to be about the same length as giant squid (Architeutis dux) but are much heavier. The species was first identified in 1925, but very few specimens have been found. The first specimen recovered intact, a 150 kg (330 lb) immature female, was caught on the surface in the Ross Sea near the Antarctic coast in April 2004.BCC News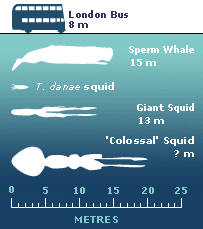 Loren Coleman – has written 5489 posts on this site.
Loren Coleman no longer writes for Cryptomundo. His archived posts remain here at Cryptomundo.