Posted by: Loren Coleman on February 9th, 2009
Let us pause to remember these three folks linked to cryptozoology, who have passed away recently.
(1) Joseph Neminich, 58, a Pennsylvania Bigfooter, died (he was recently ill) on February 6, 2009, at his Johnstown home (the one in which he was born). In July 1994, Neminich and a friend, Tom Johnson, saw a dark brown, barrel-chested Bigfoot on Route 422, between Revloc and Colver (old mining towns, with a mirror reversal of names). Born on June 22, 1950, in Johnstown, Neminich was the son of the late Joseph and Mary (Hrebar) Neminich. He is survived by his cousins. He had been employed as a security guard, and was a member of St. Therese Catholic Church, where friends and family will meet at 10 a.m., Monday, February 9, 2009, for a funeral Mass, with the Rev. Bernard Karmonicky, OFM.

(2) Dan Reed (above), 50, the "Bigfoot beat" reporter for the Oakland Tribune and most recently the San Jose Mercury News, died on January 8, 2009, in Oakland, California, caused by medical problems related to his smoking and drinking lifestyle. The Mercury News remarked that "there was no mistaking his hulking 6-foot-4, 330-pound frame, long beard, uncombed hair and untucked shirts. He rarely did anything quietly. But more than that, the Falstaffian Reed, with his legendary appetite for life and a ribald sense of humor, was a shoe-leathered journalist whose dogged reporting spanned more than two decades and won him many awards." An example of his Bigfoot work is here.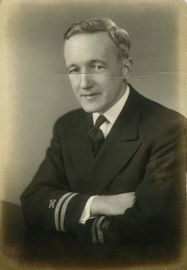 (3) James E. Colvin (pictured above, in the US Navy, 1943), 96, who was the director of two expeditions in search of the Loch Ness Monster for World Book Encyclopedia, died of natural causes, on January 4, 2009, in Greenville, South Carolina. He had lived for many years in the Chicago, Illinois, area, having worked for Encyclopaedia Britannica as director of public relations, before going to World Book Encyclopedia. Colvin was one of the three founders of the Great Books Foundation. He retired in 1972, and then moved to the Carolinas.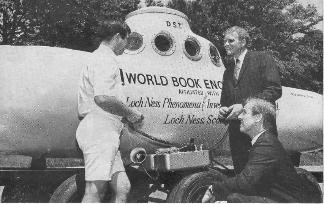 The Loch Ness launch in July 1969 of the World Book Encyclopedia Expedition's Viperfish, involving minisub builder Dan Scott Taylor, Dr. Roy Mackal of the University of Chicago, and Harry Reucking, Vice President of the World Book Encyclopedia. James Colvin ran the operation from Chicago.
Information on recent deaths thanks to Craig Woolheater, Eric Altman and Stan Gordon.
Loren Coleman – has written 5489 posts on this site.
Loren Coleman no longer writes for Cryptomundo. His archived posts remain here at Cryptomundo.