Posted by: Loren Coleman on August 22nd, 2007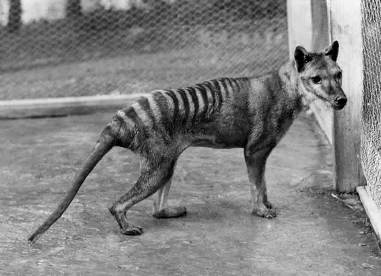 The last documented thylacine – Tasmanian tiger – died at Hobart Zoo in September 1936, and the species was declared "presumed extinct" in 1986. But is it? Travel anywhere on Tasmania's west coast and you will meet locals who tell tales of some of the 4000 claimed sightings of the mystifying marsupials over the past 70 years.

Corinna was the Aboriginal name for young thylacines. So if you're keen to try your luck at tiger-spotting, the old gold-mining town of the same name, surrounded by vast tracts of rainforest on the southern end of Tasmania's Tarkine wilderness, may be a good place to start.

Bounded by the Arthur River in the north and the Pieman River to the south, the Tarkine sprawls across about 350,000 hectares in the state's remote north-west.

Spectacular vistas of the Tarkine are one of the highlights of a visit to Corinna, a tiny settlement nestled on the banks of the slow-flowing Pieman River.

Although a river punt for cars resumed and a river cruise began operating in the 1980s, Corinna remained largely neglected until late last year, when it was transformed into an outstanding wilderness getaway.

Corinna's six remaining cabins and old guesthouse have been restored and a further 14 rustic cabins – thankfully sympathetic in design with this pristine location – built, allowing an close-up glimpse of the Tarkine's glorious rainforest and incredible plant life.

Tranquil oases in the bush, the four-star cottages have comfy beds, gas log fires and cooking facilities. Our cosy cabin backs on to a dense forest of myrtle, blackwood, sassafras and wattle trees, huge tree ferns and mosses. Sipping wine on the veranda in the evening, we hear the rustle of wildlife – possibly the wallabies, echidna, possums and pademelons that thrive here, and hear what we think is the growl of a Tasmanian devil in the undergrowth. Then again, maybe it's a tiger? Leaning across the veranda, we listen again: A crunch, a scary yowl. Whatever it is, we head back inside for another glass of wine.

At 7.30am we're rugged up for a cruise on the Arcadia II, a 70-year-old cruiser built of precious Huon pine. The river is like a millpond on our upriver journey: ethereal mists are draped across the trees and the dense forest is reflected in the glassy calmness of the waters.

The 108-kilometre-long Pieman is home to a mass of birds, including sea eagles, black swans, owls, kingfishers and honeyeaters, and platypus make their homes in the river's many tributaries. Crew member Derek Purdon cooks a hearty breakfast while his grandfather Tony, who captains the cruiser, points out a white-crested sea eagle sitting like a sentinel on an ancient huon pine: some pines in this region are thought to be up to 3000 years old.

Later we join Derek and Tony for a downstream journey to the mouth of the river at Pieman Heads, which spills into the Southern Ocean.

Wandering along the breathtaking beach at the Heads, we are as bewitched by the force of the ocean as we are by the awe-inspiring beauty of this place; by its ancient forests, prolific wildlife and wonderfully serene rivers. We haven't spotted a thylacine, but who cares?

* Cabins at Corinna Wilderness Experience are priced from $150, with double rooms at the old pub $70 (off-season discounts of 15 per cent from May 1 to October 31). Pieman River breakfast cruise is $50 adults, $25 children, $125 family, while Pieman Heads cruise is $70 adults, $35 children, $175 family. For further information phone (03) 6446 1170, visit http://www.corinna.com.au

"The elusive Tassie tiger,"

by Sandy Guy
August 18, 2007.
Loren Coleman – has written 5489 posts on this site.
Loren Coleman no longer writes for Cryptomundo. His archived posts remain here at Cryptomundo.