Posted by: Loren Coleman on August 12th, 2009
Various supposed cryptostories have appeared in recent days.
They all are rather, excuse me, lame.
Mystery Track
Take for instance this first one that promotes the following large print found near Janików, Poland. It is said to be of a cryptid (red box) while identifying the one above it as "a large dog's print" (green box).
What is to say the one that is being labeled so mysteriously is nothing more than a muddy imprint left by the same canid that left the not-so-strange dog track?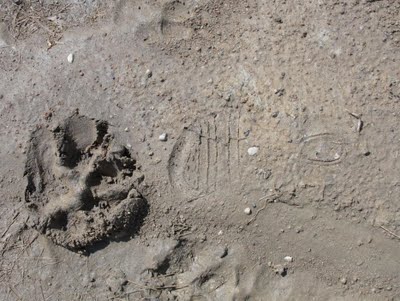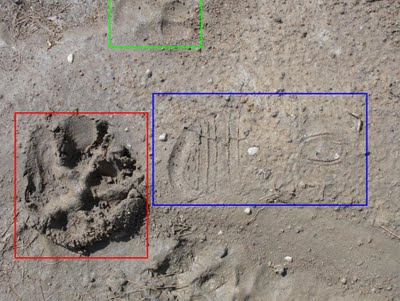 Instead of me recycling what seems like a lot of recycled details, you can pick and choose which ones you wish to read further, okay? Most of these stories verge on the bogus or intellectually less-than-stimulating, but I'll pass these along for mere completeness.
I have lined them up from the "maybe" to the "highly doubtful." Enjoy, but I warned you.
Supposed Bigfoot Handprint in NC
An Alleged Fossilized Bigfoot Track
Loren Coleman – has written 5489 posts on this site.
Loren Coleman no longer writes for Cryptomundo. His archived posts remain here at Cryptomundo.