Posted by: Loren Coleman on February 17th, 2012
PhotoExpert has forwarded an enhancement of the photograph taken in Farmington, Connecticut, which he feels shows the appearance and thus identity, more clearly: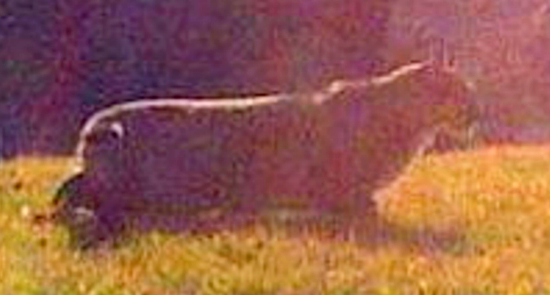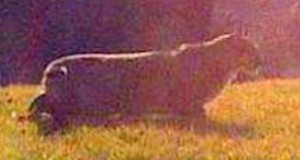 PhotoExpert writes: "I must admit, at first glance, it initially screamed 'cougar' to me. However, keeping objectivity in mind, I enhanced and analyzed the photograph and it is obviously a bobcat."
+++++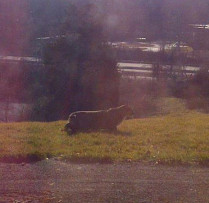 News reporter Kaitlin McCallum writes in The Farmington Patch, "A large cat spotted in Farmington [Connecticut] is just a bobcat, the town's animal control officer says. What do you think?"
It appears the official word that there are no cougars/pumas/mountain lions in Connecticut has filtered down to local authorities, even in the face, now, of photographic evidence questioning such statements.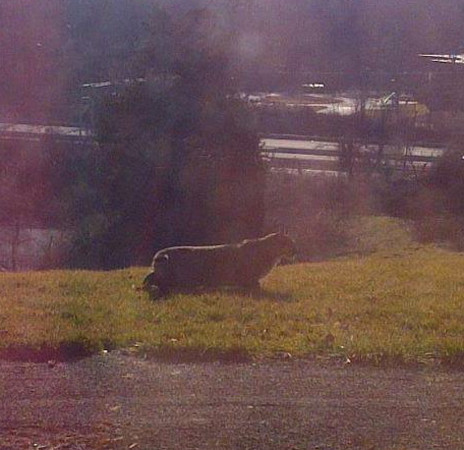 McCallum continues, in part:
Rumor has it there's a mountain lion roaming the area around the UConn Health Center in Farmington. Employees in an office building there snapped a picture of a large animal that was said to be just outside. The picture was circulated in the office and on Facebook and conjecture ensued.

"It's not a mountain lion. It's a bobcat," said Farmington animal control officer Charlene Rogers, who had seen the picture.

"Bobcats live in our area, especially in the UConn area and there has been a family denning there for at least 20 years," Rogers said.

The sighting was reported to UConn Health Center police as well.

Officially, the Department of Energy and Environmental Protection maintains that there are no mountain lions living in Connecticut.
The rest of her article containing the usual "official statements" about no mountain lions in the East can be read here.
What do you think?
Loren Coleman – has written 5489 posts on this site.
Loren Coleman no longer writes for Cryptomundo. His archived posts remain here at Cryptomundo.