Posted by: Loren Coleman on June 29th, 2007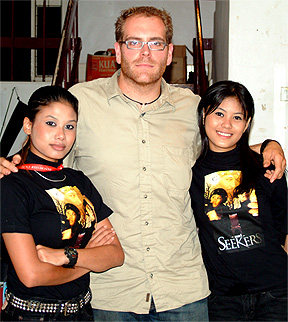 Bigfooter Allen Foster takes a peek at the latest episode about reports of hairy hominoids in Malaysia on Destination Truth:
The "team" went to Malaysia to find Bigfoot.

The leader, Josh Gates, interviewed the Malaysia's leading Bigfoot researcher, Vincent Chow.

Then they went to a local town near the last reported sighting and interviewed witnesses. Off into the jungle they went to where the latest sighting was. The team found a possible footprint and made a cast of it.

The footprint was irregular in shape but did look like a possible print.

They had one of their night vision cameras get knocked over and when they went to the location of the camera, they were able to hear and record a low "growling" noise.

They only spent one night in the jungle researching. They were not allowed to leave Malaysia with the orginal cast and had to make a copy of it.

Once they got back to the U.S., they had the curator of the Los Angeles zoo, Micheal Dee, listen to the recording of the growl or the "droney noise" as he put it, and he couldn't identify it.

They then went to Pocatello, Idaho, and had Dr. Jeffery Meldrum examine the copy of the footprint cast. He said that it could possibly be one of three things. One, a pothole that happened to have formed in the shape of a foot. Two, a super "imposition" of a commonly know animal. such as a rhino. Or three, it may represent a "plantigrade pentadactyl" foot, a flat five toed foot.

They then reviewed their findings and continued on to their next story about a Loch Ness type creature in Argentina.Allen Foster, Redding, California.

Loren Coleman – has written 5489 posts on this site.
Loren Coleman no longer writes for Cryptomundo. His archived posts remain here at Cryptomundo.