Posted by: Loren Coleman on June 16th, 2008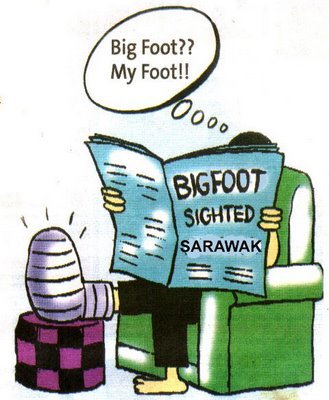 Editorial Cartoon: "Bigfoot in Sarawak" posted by Kher Cheng Guan.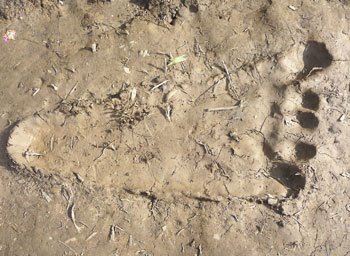 The giant footprints found in a fishing village in Daro [Borneo] are a fake.

"It's man-made and a hoax," Sarawak Museum anthropologist Dr. Charles Leh said yesterday while dismissing news reports that the two sets of footprints found in a village in Mukah division were those of "Bigfoot", an ape-like creature said to be found in North America.

He said the hoax may be an attempt to attract people to Daro.

Leh, who is also the assistant director of the museum, based his opinion on an analysis of the published photographs.

He said based on the position of the footprints in one photograph, he wondered why "Bigfoot" did not clip the corner of the fence instead of walking around it.

"If it was Bigfoot, he would not have walked around the fence. The 10-foot fence would have tripped him.

"There are no signs of damage to the fence or of a giant falling on the ground near the fence."

He added the foot stumps were "too light" for a giant.

Leh said the footprint measuring 119cm from heel to toe and 43cm across, indicated "Bigfoot" must weigh more than 200kg.

"But the impression was too shallow for something weighing more than 200kg.

"Unless more footprints are found, I am not going to waste my time going there to investigate," he added.

Thousands of people have flocked to the small Melanau town to get a glimpse of the footprints since word of the find began spreading a week ago.

The Borneo Post and See Hua newspapers reported the "phenomenon" on Friday, based on the account of a businessman.

The discovery of the prints caused a stir in the area where a deeply superstitious community live.

A host of ghostly stories was spawned with similar sightings elsewhere."'Bigfoot' is someone's idea of a joke," by Desmond Davidson, The New Straits Times, June 16, 2008.
The photo of the Daro Bigfoot which Dr. Charles Leh dismissed as a fake. — Picture courtesy of The Borneo Post, by Tan Soon Kuang.
Loren Coleman – has written 5489 posts on this site.
Loren Coleman no longer writes for Cryptomundo. His archived posts remain here at Cryptomundo.