Posted by: Loren Coleman on February 16th, 2007
What's up with this?
Has there been a new sighting of the Dover Demon?
I've mentioned the little guy lately here, because the Boston Globe did a new update around Halloween of last year and we are creeping up on Year #30. Also, over Christmas, I highlighted one of the figurines (example below), as they are reflective of how important the Dover Demon remains in Japan today. Nevertheless, a new sighting now is unexpected.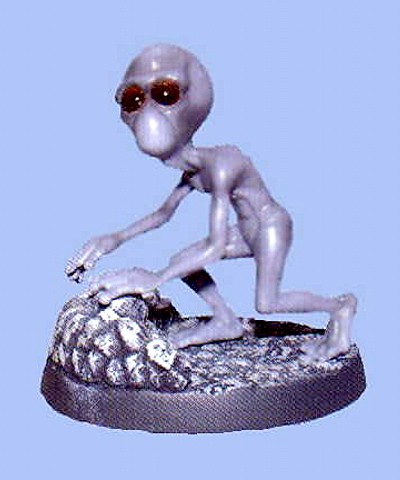 But look what just showed up online:
Last seen Saturday, February 3rd, 2007, in Westwood, Mass. behind the parking lot at Xaverian Brothers High School. Unsigned author, Wikipedia
There is a Xaverian Brothers High School at 800 Clapboardtree, Westwood, Massachusetts 02090. Dover, Massachusetts, is bordered on the east by Westwood.
There is no news source for this report or any details on the internet about this alleged, briefly mentioned encounter.
The blogger (Gordon Comstock?) over at Aspidistra, where I first read about this, quite correctly wonders if this is merely some type of "inside joke" from the school's or rival students. Next week throughout New England, including Massachusetts, is President's Day and Winter School Vacation Week, so any follow-up with that school is not going to be easy.
I did just finish writing an article about the Dover Demon for the March 2007 issue of TAPS Magazine, in celebration of the 30th anniversary of the Patriot's Day-Spring Vacation Week sightings of 1977. But I wasn't expecting a new sighting or prank about the Dover Demon to take place in February 2007. Maybe April, but not already. Even the cosmic jokers in publishing have scheduled the roll out of my new 2007 version of Mysterious America for that special week in April.
Why February 3rd for this sighting?
Has anyone out there heard anything more about this new Dover Demon "event"?
++++++++++++
UPDATE February 17, 2007
Wikipedia has removed the short paragraph on the supposed Dover Demon sighting.
Loren Coleman – has written 5489 posts on this site.
Loren Coleman no longer writes for Cryptomundo. His archived posts remain here at Cryptomundo.